As you all know, February is Women in Horror Month. And does PopHorror have a treat for you! This month, you can expect many great articles and interviews that celebrate women in the horror industry. We were so excited to sit down and chat with the very lovely horror actress Leah Wiseman. Check out how she got into acting and some really fun facts about her right here!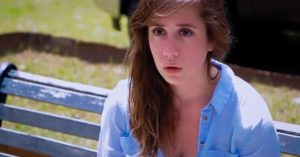 PopHorror: Thanks for taking the time to do this interview, Leah. We are so happy to feature you during and for Women in Horror month!
Leah Wiseman: Thank you for wanting to interview me!
PopHorror: How did you get into the film industry?
Leah Wiseman: I initially studied theater. I was a theater major in College, and then I moved to NYC and was a full time student at Atlantic Acting School. When I moved to the southeast, I began taking acting classes in the area and quickly realized almost the entire market was driven by film. Therefore, I had to switch gears a little. I got an agent and began auditioning for projects. I really grew to appreciate the subtleties of film acting. My first feature was a campy horror film called Dollface with Tommy Faircloth. I had so much fun on set and was so happy with the overall experience that I never looked back!
PopHorror: I have not seen Dollface yet, but I will absolutely check it out soon! What draws you to act in the horror genre?
Leah Wiseman: I'll be completely honest… I never intended to work on so many horror movies. Don't get me wrong. I'm a huge horror movie fan, but I never envisioned myself acting in them. The indie horror film community is so close knit. Once you've done one film, people recognize you and want to work with you on their films. I've been completely lucky in that regard. Horror has also allowed me to play some really challenging, interesting characters. Every horror film set has been like one big family, and I've had the time of my life making these movies.
PopHorror: That's why we all love the indie horror community. It is really just one big family! Dismembering Christmas seems like it was a blast to work on. What was it like working on a holiday horror film?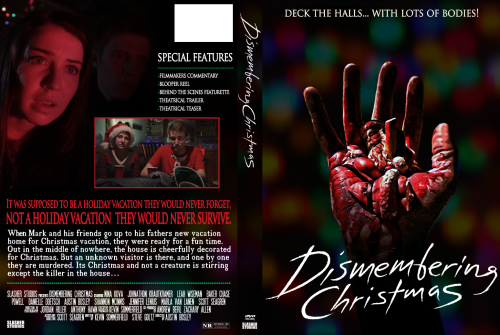 Leah Wiseman: Dismembering Christmas was so much fun! All of us lived in pretty close quarters in that cabin, so we became very close very quickly. The feet and feet of snow made it almost impossible to leave the cabin, so we had all lost our minds a little by the time filming was wrapping up. Not to mention, Emma is definitely one of the best characters I've ever played. I was really able to play around and improv with her a little because she's so snarky and quick-witted. It was a complete departure from the types of characters I normally play, and I really enjoyed the opportunity to do something so different.
PopHorror: Your latest film is Irrational Fear, where you Taylor. The fear you had to portray is certainly not an easy thing to do. How did you prepare for this role?
Leah Wiseman: Believe it or not, playing Taylor was not a huge departure for me. Granted, I do not have a fear of being touched (laughs), but there are a lot of similarities there. I thrive on playing the vulnerable, somewhat broken characters. I'm a Meisner-trained actor, so I'm not huge on lots of preparation prior to getting to set. I'm all about moment to moment work. My scene partner will almost always completely inform my reactions in any given scene. This film was so great because I had the opportunity to work with such high caliber actors. They're all so phenomenal! They made my job a lot easier than it would've been otherwise.
PopHorror: Your portrayal came across brilliantly! Do you have any fun behind the scene stories while filming?
Leah Wiseman: I think I can probably speak for everyone when I say that we had a blast behind the scenes. I've worked with some of the cast and crew before, so it was already a familiar and comfortable situation. I have to give a shout out to Andrew Beirl and Zach Spaulding for making me laugh all day, every day. Andrew builds me up while Zach tears me back down, but it just wouldn't have been the same without them. Everyone in the house enjoyed hanging out after we'd wrap filming for the day. Even though we were working, it also felt like a summer vacation with friends that I've known for years.
One evening, we were shooting a group scene in the gazebo outside and several terrifying-looking, bird sized moths kept flying right into the screen behind our heads. Wisconsin bugs are unlike anything I've ever experienced.
PopHorror: That does sound like a blast! I think Charles Chubadala mentioned that very same thing (laughs). Who are some of your favorite Women in Horror?
Leah Wiseman: I absolutely loved Maika Monroe in It Follows. She knocked it out of the park. I would love to play a role like that someday.
PopHorror: Awesome choice! What upcoming films or projects do you have that we should be on the look out for?
Leah Wiseman: Please be on the lookout for Family Possessions! It'll be released on a variety of platforms like Amazon, iTunes and Walmart on February 6th. This is my first feature length leading role, so I'm super excited!
PopHorror:  Congrats! I'm going to check that out ASAP. I must know, what is your favorite horror movie?
Leah Wiseman: This is a tough one, but I always go back to the classics. Rosemary's Baby sticks out as being one of my all time favorites. Mia Farrow is another kick ass female in horror!
PopHorror: She is! You are quickly becoming an Indie Scream Queen. What advice do you have for other future scream queens that are wanting to break into the genre?
Leah Wiseman: My best advice is to train. Take acting classes, grow your craft. Acting is not something you can just jump into on a whim. I mean, you probably could, but it's an art form that deserves more respect. Also, be easy to work with on set. People will recommend you and want to work with you for your personality as much as for your acting skills. Finally, do not take rejection personally or let it get you down. It will literally happen on an almost daily basis, that's just the nature of the industry. Keep your head up and keep putting yourself out there.
Thanks again to Leah Wiseman for this interview! Be sure to check out her film, Family Possessions, which is released February 6th. Check out the trailer here!