Lions don't pick off the weakest prey of the herd, they pick out the one that's the furthest away. Modern predators in civilization can be in our inner friend circles, daddy-issue creeper dudes in the woods, or even just intrusive thoughts of our own minds,- I call them 'the shitty committee.' Caroline Hale will have to face the elements of Mother Nature, mankind, her mental health, and the futility of waiting for a savior in Distress Signals.
DISTRESS SIGNALS (2023) Synopsis
When a fall down a steep rock face separates her from her friends, Caroline finds herself stranded. Now, alone and with a dislocated shoulder, she must make her way out of the woods–and contend with how she got there.
Let's take a look at the poster art.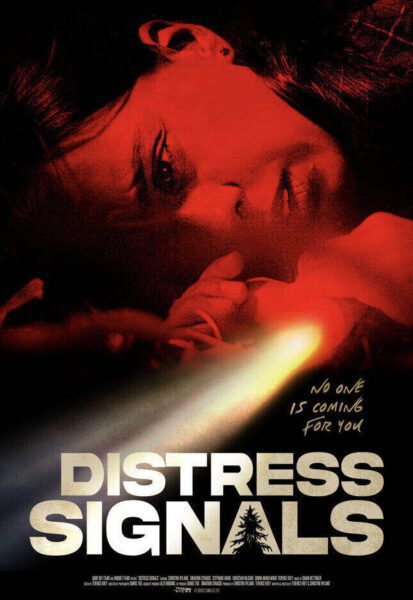 The Setup 
Right from the start, we meet a hazy Caroline Hale (Christine Nyland – An Unquiet Grave (2020) in peril. She awakens in the dirt, baffled and injured. Caroline claims she slipped on a rock face as she radios for help on her walkie-talkie. You can immediately feel there is a lot going on internally with Caroline. I couldn't tell if she had amnesia from trying to escape and falling, or perhaps she was dumped in the woods and came to. One thing is for sure, Caroline is resilient as hell.
She resets her dislocated shoulder on a boulder in an Officer Riggs fashion. Sleeps without shelter or fire in the elements of the woods, and even risks discovering how edible the forest is. When she radios for help, it feels shallow and a waste of time, but she still reaches out. Helicopters pass her by, her cellphone reception cuts out, and still, no one reveals themselves as saviors for her S.O.S distress signals.
She often detects someone or something is following her in the woods, and when she finally discovers a hunter named James, she can't bring herself to trust or fully accept his motives.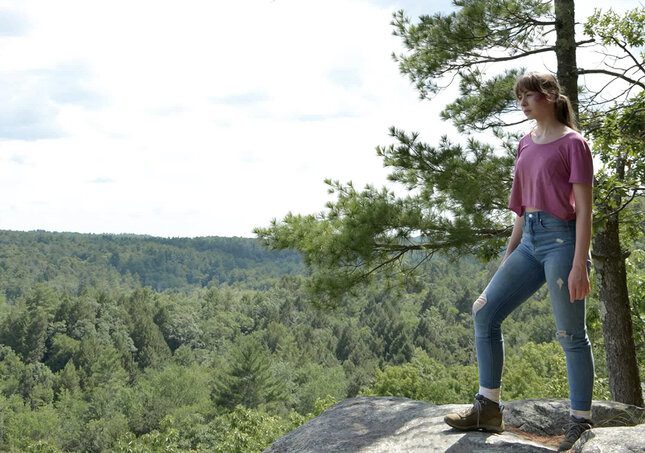 The Payoff
Right away there's a sense of passion for filmmaking in Distress Signals. From the illustrated desolation painted by balanced shots with such little dialogue – and, yes – I know, she's alone in the woods. However, it takes skill to show the audience that things are happening without words while holding tension and keeping us committed.
Distress Signals compelled me to realize how a recognizable anecdote of a survivalist story becomes fundamentally different when a woman is at its center. The progression of Caroline's anguish and mental fortitude to the moment of utter defeat is a severe human experience that Christine and Terence capture well.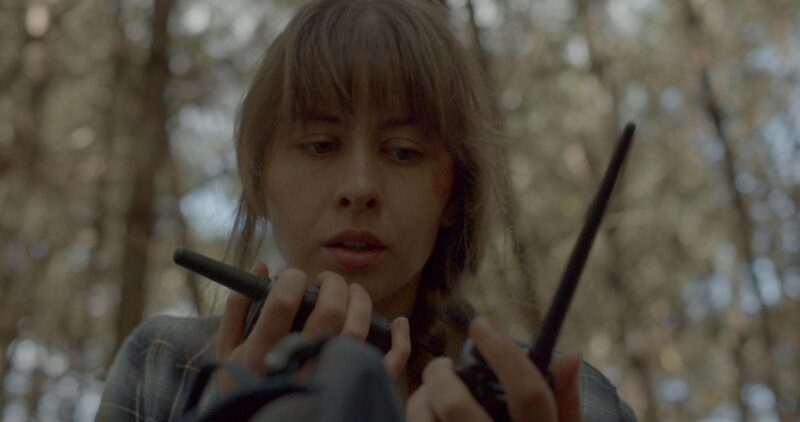 Distress Signals Final Thoughts
Distress Signals doesn't just follow Caroline's journey out of the woods, it challenges audiences to examine why we wait for saviors who aren't coming and interrogate the 'what' and the 'why' of what we are enduring. It is an 80-minute thriller by intentional filmmakers who can keep an audience engaged.
Distress Signals was filmed in 2020 when the world and life were on a halt as we'd never known it before. Writer, director, and actors Christine Nyland and Terence Krey had to table their projects. In a director's note, they mention how they followed those impulses into the woods, and they found a meditation on survival. With a bare-bones crew, they created Distress Signals.
You can watch Distress Signals On Digital and VOD on May 12th, 2023. Check out the trailer below!