Vincent Cassel is not your typical-looking leading man, with a long, hawklike face and a history of tough guy roles. But whatever he lacks in stereotypical good looks he makes up for a million times in his own brand of casual charisma. He's played the villain more often than the hero, but his talent always shines through.
Here are 10 of my favorite Vincent Cassel roles!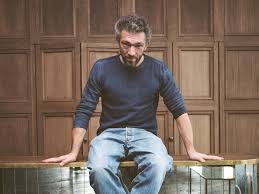 Irreversible 
Directed by Gaspar Noe
Synopsis:
A woman's lover and her former boyfriend take justice into their own hands after she becomes the victim of a rapist.
His best performance is in the film which is the most disturbing of the films to watch. But Cassel moves through the film (told in reverse) with both a confident swagger and violent, kinetic energy. Filmed in a few weeks and mostly ad-libbed by the actors, this is a beautiful, violent, difficult-to-watch masterpiece.
Mesrine: Killer Instinct and Mesrine: Public Enemy No. 1
Directed by Jean-Francois Richet
Synopsis:
Jacques Mesrine is a loyal son and dedicated soldier living with his parents after returning from the Algerian war. Handsome and charming, he is soon seduced by the neon glamour of 60s Paris and the easy money it presents. Mentored by Guido, Mesrine moves swiftly up the criminal ladder, loving the high-risk life of a gangster. After pulling off an audacious heist, he and his lover Jeanne flee to Canada.
Cassel once again brings his charisma and swagger to the films based on the real-life criminal. Both are incredible gangster films.
La Haine
Directed by Mathieu Kassovitz
Synopsis:
When a young Arab is arrested and beaten unconscious by police, a riot erupts in the notoriously violent suburbs outside of Paris. Three of the victim's peers, Vinz (Vincent Cassel), Said (Said Taghmaoui) and Hubert (Hubert Koundé), wander aimlessly about their home turf in the aftermath of the violence as they try to come to grips with their outrage over the brutal incident. After one of the men finds a police officer's discarded weapon, their night seems poised to take a bleak turn.
One of the most beautifully shot films of all time. If you haven't seen this, you are missing out! Cassel and the entire cast shine in this gritty look at the powder keg of violence brewing on the street of Paris.
Brotherhood of the Wolf
Directed by Christophe Gans
Synopsis:
In a rural province of France, a mysterious creature is laying waste to the countryside, savagely killing scores of women and children. Unseen, possessed of enormous strength and a human intelligence, the beast has eluded capture for years. King Louis sends in a renowned scientist and his Iroquois blood brother, an unconventional team whose combined methods and capabilities may bring the beast down. But the true nature of the beast is not what anyone could have anticipated.
Honestly the most fun of all his films. This film has everything: Period costumes, humor, kickboxing, blood and guts, conspiracies…you name it! Cassel's character is an awful guy, but he looks like he is having a great time!
Black Swan
Directed by Darren Aronofsky
Synopsis:
Nina (Natalie Portman) is a ballerina whose passion for the dance rules every facet of her life. When the company's artistic director decides to replace his prima ballerina for their opening production of "Swan Lake," Nina is his first choice. She has competition in newcomer Lily (Mila Kunis) however. While Nina is perfect for the role of the White Swan, Lily personifies the Black Swan. As rivalry between the two dancers transforms into a twisted friendship, Nina's dark side begins to emerge.
Cassel plays one of his more hard-nosed roles as the dance director that pushes Nina to the edge and beyond.
Eastern Promises
Directed by David Cronenberg
Synopsis:
Nikolai (Viggo Mortensen), who is both ruthless and mysterious, has ties to one of the most dangerous crime families in London. He crosses paths with Anna (Naomi Watts), a midwife who has come across potentially damaging evidence against the family, which forces him to set in motion a plan of deceit, death and retribution.
Cassel walks the fine line between a simpering wimp and a budding monster in this tale of a mobster, his son, and the bodyguard keeping their secrets.
Partisan
Directed by Ariel Kleiman
Synopsis:
Alexander, a boy who has been raised in a sequestered commune, finds that his increasing unwillingness to fall in line puts him on a collision course with Gregori, the society's charismatic and domineering leader.
Cassel stars as Gregori, the cult leader. The movie does an incredible job of keeping the tension on a slow simmer throughout the film. Father and son each waiting for the violent episode that will end their power struggle.
Gauguin: Voyage to Tahiti
Synopsis:
In 1891 Gauguin settles down in Tahiti, where he hopes to find inspiration for his work as an artist and live as a free man in the wild, far from all the moral, political and aesthetic codes of civilized Europe. In the jungle, he faces loneliness, poverty and disease, and he meets Tehura. She eventually becomes his wife and the main subject of his greatest paintings.
As an art lover, this was a fascinating watch and I really loved it, even though it was a little outside my usual fare.
The Crimson Rivers
Directed by Mathieu Kassovitz
Synopsis:
Pierre Niemans is a tough city cop assigned to investigate a brutal murder at a college in the Alps, Max Kerkerian a young investigator trying to find out why the grave of a ten-year-old girl was desecrated. As their parallel investigations start, slowly they converge and the duo find themselves with more bodies leading them to a dark secret in Mathieu Kassovitz's dark, cerebral thriller.
Terrific early performance by Cassel joined by Jean Reno! May be hard to track down, but totally worth the effort!
Sheitan
Directed by Kim Chapiron
Synopsis:
A group of young people leave a bad disco party and follow the advice of one of them to join her in her place in the countryside. But then they meet a strange man, Joseph, who has an evening of Satan worshipping planned.
Yes, it's as weird as it sounds. It's fun to see Cassel really dive into a really crazy role in a horror film. Did I mention how weird this was?
What is your favorite Vincent Cassel film or role? Tell us in the comments!