Most people wouldn't put "heartfelt" and "Chucky" in the same sentence. After all, the red sneaker-clad doll is a brutal little guy who shows no mercy. However, with her new documentary Living with Chucky, which heads to Screambox and all major digital platforms on April 4, Kyra Gardner manages to showcase a side of the Child's Play franchise that many fans might not be aware of — the strong sense of family among the cast and crew.
Check out the full interview with Gardner below:
I first had the pleasure of speaking with Gardner last July (read the interview here), mere weeks before Living with Chucky was set to make its premiere at Popcorn Frights Film Festival. Ever since, as an avid Child's Play fan, I've been anticipating the chance to view the documentary, which finally happened last week.
For the entire hour-and-40-minute runtime, I could not stop smiling. Gardner conducts interviews with all key players of the film franchise, including creator Don Mancini, producer David Kirschner, Jennifer Tilly, Brad and Fiona Dourif, Alex Vincent (our interview), Christine Elise, Billy Boyd, John Waters and, of course, her father, Tony Gardner, the lead puppeteer from Seed of Chucky onward. She also chats with non-Chucky horror heavyweights, including Lin Shaye and Abigail Breslin.
Each individual featured is an open book as they share rare details on the history of everyone's favorite Good Guy. Tilly recounts her dramatic introduction to Chucky; Brad Dourif recalls how lonely it sometimes got in the recording booth; and Elise reveals that her iconic black hat came out of her own closet, not from the costume department.
Gardner's attention to detail is impeccable, and the documentary as a whole is well-organized, with conversations grouped by film in chronological order. To help viewers keep track, close-up shots of Gardner putting each movie into a VHS player (followed by a DVD and Blu-ray player for the last few) mark the beginning of every segment. I particularly loved how she changes her nail color to correspond to each. For example, Bride of Chucky sees her rocking Tiffany's signature black, while Seed of Chucky features the purple of Glen's T-shirt.
"I knew I needed something visually to separate each film, and the VHS' and the DVDs and the Blu-ray, I felt like it was a good visual of telling us how long this franchise had been going on without showing it in our face with the giant time title card," said Gardner. As for the ever-changing nails, she said, "I'm really picky about my color palettes as a filmmaker. So in thinking of these shots of just a VHS player, I was thinking, 'How can I make this a little bit more interesting? What can I add to the frame?' And so then the nail idea came in, where I was like, 'If it's my hand, at least I can coordinate, you know, some press-on nails to the color of the movie.'"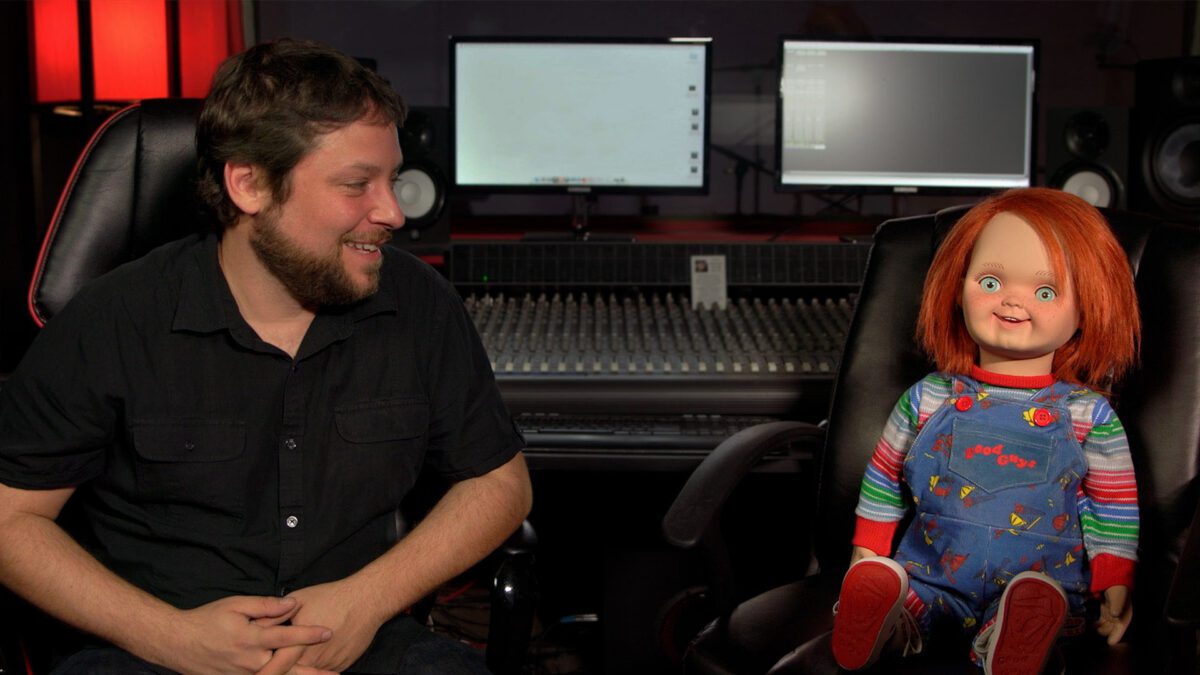 It's also an interesting creator's choice for Gardner to not feature — or even mention — herself until about three-quarters of the way through Living with Chucky. Though she originally had herself appearing at the beginning, something about it didn't feel right.
"To me as an editor, it felt awkward because my dad didn't come in until Seed of Chucky. So once I decided that the documentary was gonna go chronologically through the films, it felt kind of weird because I introduced myself as the filmmaker and involved in some way, but we don't get to see it until like 45 minutes down the road," said Gardner. She added, "And then the other opportunity to introduce myself would have been when we do get to Seed of Chucky and a little bit earlier than it is now. But then I felt like it took away from my dad's entrance into the franchise and his experience on the films. So that's kind of where the third act break came in."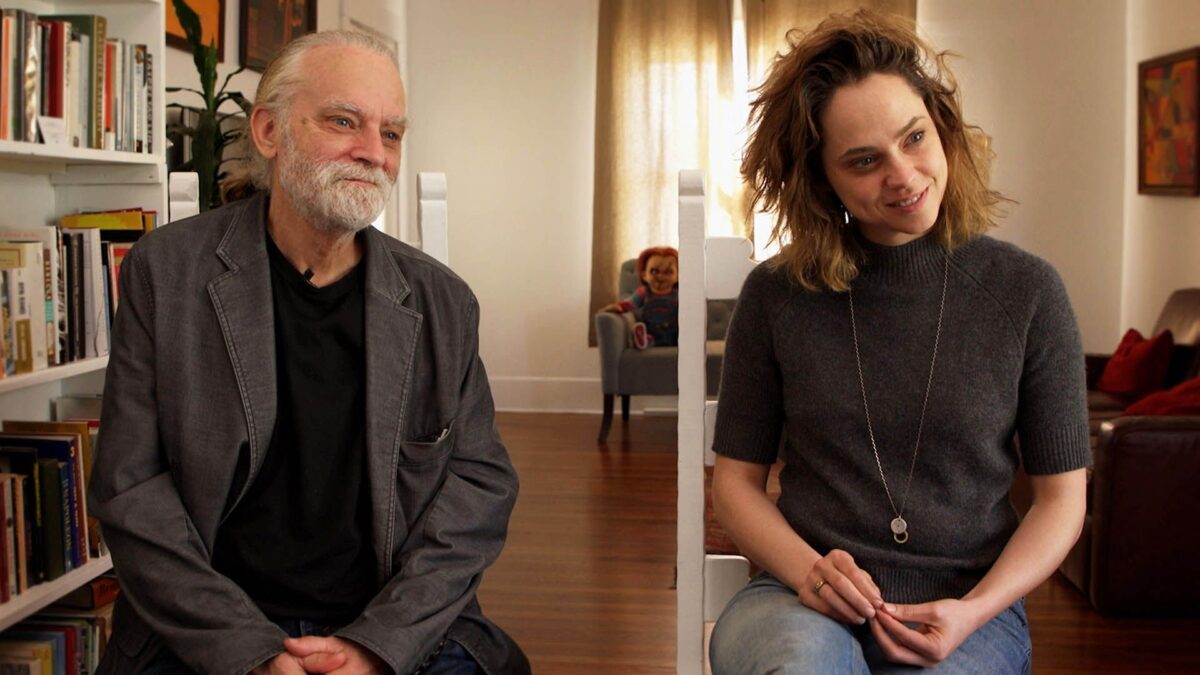 This "third act" is where we really get to the root of Living with Chucky. Tony Gardner, Mancini and the others are extremely candid about how difficult it was to leave their families behind for months at a time to shoot the films on location, including Romania for Seed of Chucky.
"We don't get to see that too often from horror documentaries or even just, like, documentaries about filmmaking in general," said Gardner. "Nobody's like, 'I didn't see my wife for six months, and my daughter was three the next time I saw her after she was born,' or something like that. We don't talk about that too much."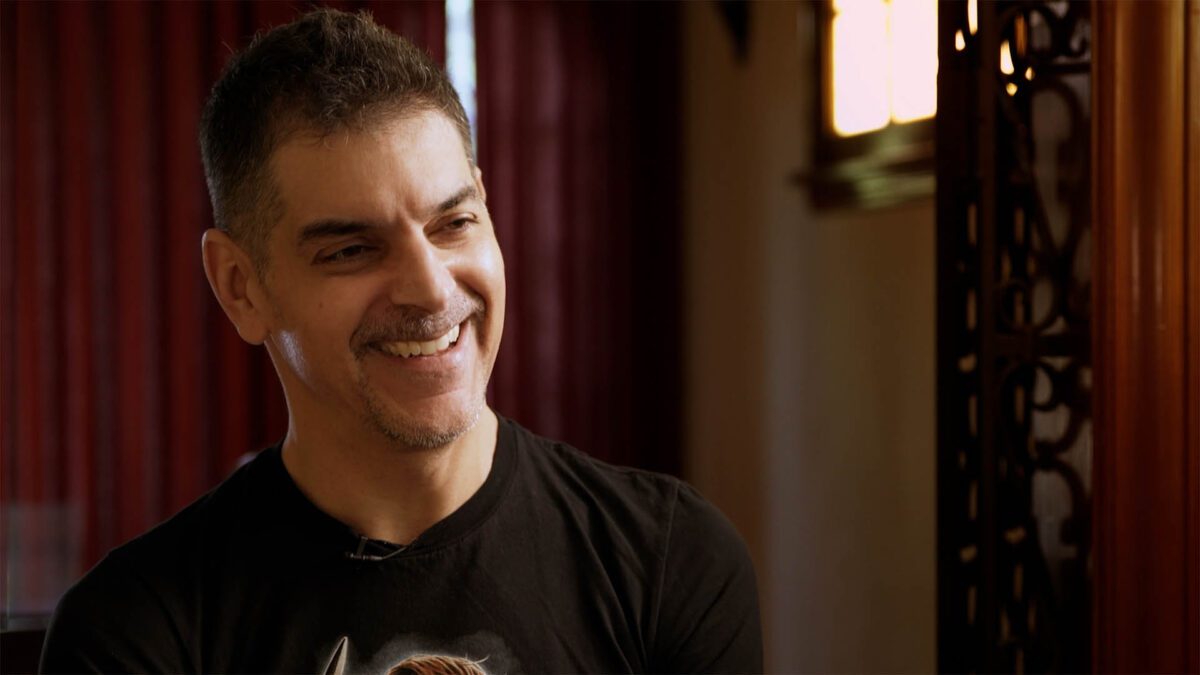 Despite missing home, cast and crew members were able to form a second family on set. For Tony Gardner, during the creation of Living with Chucky, it was a joy to see his two worlds collide. After hearing about Brad Dourif, Tilly and the rest growing up, his daughter got to meet them face-to-face and earn a spot in the Chucky fam.
"It's something that I was adjacent to for a long time, and through the process, I've gotten to know all these people and then become involved with them and it, but in a different way, obviously. I'm not involved in the series or anything, but this documentary in itself has continued to just make me feel a part of the Chucky family, and it's interesting to see. I feel even more involved than a year ago."
Living with Chucky is a MUST watch for all Child's Play fans, whether they're a longtime follower of the franchise or are newly-introduced to it thanks to the Syfy series Chucky, which is entering its third season this fall. Gardner even hinted about a possible follow-up documentary that covers just the TV series and the latest additions to the world of Chucky, including Zackary Arthur and Alyvia Alyn Lind.
Living with Chucky is available starting April 4 on the horror streaming service Screambox and all major digital platforms in the U.S. and Canada. Check out the trailer below: