Kevon Cronin is the composer for IFC Midnight's shocking new film, Shawn Linden's Hunter Hunter (starring Devon Sawa, Camille Sullivan, and Nick Stahl). He has also created music for Lifetime miniseries, The Red Tent, USS Indianapolis: Men of Courage, and Momentum, among other projects. We ask him about the unique elements of Hunter Hunter, as well as his opinions on horror.
PopHorror: To what extent does the setting influence the music you compose? For example, would a desert environment with the same desperate situation inspire music different from a forest?
Kevon Cronin: The setting influenced the score extensively. It led me to make use of sparse elements, whether it was a lite drawing cello string or a knock-on-wood to convey the tension and starkness of the wilderness. Regarding your second question, I would aim to create the same feeling of tension, but the instrumentation that I would use would definitely change to reflect the desert environment.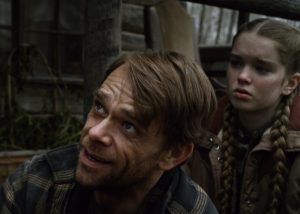 PopHorror: Rather than having Joseph and his family threatened by a wolfpack, it always seems to be a lone wolf. In what ways does that make this story different?
Kevon Cronin: I'm not sure it does, to be really honest. The film makes good use out of conveying the uncertainty of where the wolf is throughout the forest, so the feeling of threat would be very similar.
Who's Afraid of the Big Bad Wolf?
PopHorror: Could Hunter Hunter easily make people more afraid of the woods for fear of wolves or maybe a grizzly bear?
Kevon Cronin: Absolutely! It would definitely make me think twice before venturing out in the woods alone.
PopHorror: Did the scene where Renee had to fire shots into the air influence the composition at all?
Kevon Cronin: I don't think it had a great influence on the score because the feeling of tension and fear really grew at that point when Renee fired the shots.
PopHorror: This movie has some corpse scenes, and many people would say that makes it horror. Yet there are plenty of war movies with blood and gore which don't qualify as horror to most. What do you think makes something belong in the horror genre?
Kevon Cronin: While both genres share similar material, the fact that Hunter Hunter tries to elicit the emotion of
fear is what differentiates it from a war movie for example.
PopHorror: What is your view on anyone who plans to take up more dangerous animal hunting?
Kevon Cronin: Educate yourself well, travel in pairs, and always let someone know where you are going!
PopHorror: What kind of music do you like?
Kevon Cronin: I really enjoy music that elicits a strong emotional reaction from me. Recently, I've been listening to a lot of Olafur Arnalds' music. He is an Icelandic composer who has also written for film and television.
Horror Tastes and Future Projects
PopHorror: What kind of horror—and non-horror—films and TV series do you like?
Kevon Cronin: I'm a particular fan of science fiction horror… Event Horizon comes to my mind. I would love the opportunity to score a remake of that film as it would allow me to explore the depths of horror and combine elements of science fiction and horror scoring to create a horror identity. I've heard rumors that an Event Horizon series is in development at Amazon, I would love to have the opportunity to work with the director, Adam Wingard, on the new series.
PopHorror: What projects will you be working on next?
Kevon Cronin: I am currently wrapping up work on a thriller called Ann Rule's A House on Fire, which explores a mother's slow descent into madness. After that, I would love the opportunity to work on more projects in the horror/thriller genre.
PopHorror: What are some of your favorite film scores and soundtracks?
Kevon Cronin: I really enjoy the work of Marco Beltrami, his score for A Quiet Place was really good. I would strongly recommend people give it a listen.
PopHorror would again love to thank Kevon Cronin for answering these questions, and definitely feel free to check out Hunter Hunter!