Note: This piece was written during the 2023 WGA and SGA-AFTRA strikes. Without the labor of the writers and actors currently on strike, Satanic Hispanics being covered here wouldn't exist.
I have a hard time with anthologies because if the wraparound is lacking, or there are too many weak entries, then it drags down the entire project. Satanic Hispanics is not one of those awful endeavors. It's quite good, actually. The overarching story is expertly woven throughout the whole film and ties each chapter together. Featuring short films by Mike Mendez (The Gravedancers), Alejandro Brugués (Nightmare Cinema), Demián Rugna (Terrified), Gigi Saul Guerrero (Bingo Hell), and Eduardo Sánchez (The Blair Witch Project), Satanic Hispanics should be on everyone's watch list.
When police raid a house in El Paso, they find it full of dead Latinos, and only one survivor. Known as "The Traveler," he is taken to the police station for questioning. There, he recounts tales of horrors from his life, chronicling portals leading to other worlds, mythical beings, demons and the undead; he speaks of legends from Latin America. Satanic Hispanics tells stories by top Latin filmmakers that showcase the skills of Hispanic talent, both on and off screen.
To celebrate Satanic Hispanics release in theaters, I chatted with director Alejandro Brugués about getting the other directors on board, his entry the The Hammer of Zanzibar, creation of the hammer, and more!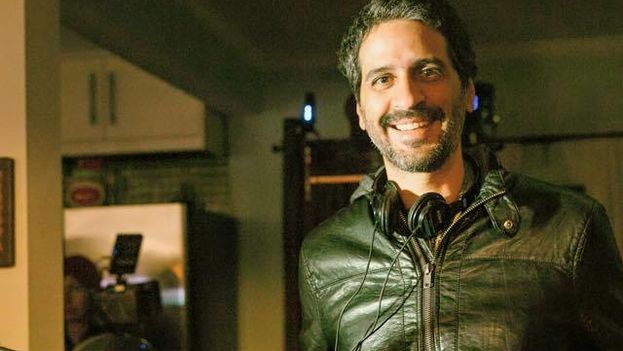 PopHorror: I really enjoyed Satanic Hispanics. It was one of the best-done anthologies that I've seen, so I'm super excited to talk with you today.
Alejandro Brugués: Thank you.
PopHorror: You not only helped produce the film, but you directed your own segment, The Hammer of Zanzibar, and you even acted in it. I was watching it and I'm like, "That looks like…" And I spotted you. That was super cool.
Alejandro Brugués: I acted in Mike's and I didn't act. I got shot 42 times. That's not "acting" acting. By the way, since we're going to get into this, Mike was like, "Who are we going to get to get shot 42 times?" I was like, "Okay, I'm going to do it for you." If they ever tell you to do squibs for something and they come to you and say they don't hurt, they are lying. Forty-two squibs hurt a lot.
PopHorror: I'm sorry.
Alejandro Brugués: Yeah, but I'm happy to do that for Mike.
PopHorror: That's awesome though. How were you approached for this anthology and what made you want to say yes?
Alejandro Brugués: I was not approached. I was doing the approaching. I was the one approaching, Tiffany.
PopHorror: Oh, I did not see that.
Alejandro Brugués: Yeah. Mike and I were talking one day because we collaborated in Nightmare Cinema, he edited my segment The Thing in the Woods, and we were talking about doing something together again because, as I said in a previous interview, it's like I cannot get rid of Mike. It's like my hairpiece. We were talking and we said, "What can we do to make this original because there are so many good anthologies?" I said, "Why don't we make something that's fully Latino and we can call it Satanic Hispanics?" I was joking. Then Mike… His face went blank for a second, which normal for Mike, and then he was like, "We're going to do that." That usually happens when I say something stupid between he and I, we end up doing it.
After that we said, "Let's get a group of some badass Latino filmmakers that we know that we admire and are friends, because this thing is hard enough, so why not make it with people you like?" We set out to find the group. Literally while we were talking, I was texting Ed Sanchez because we know each other because we're Cubans. We both did From Dusk Till Dawn episodes. I said to him, "Hey, Mike and I are doing this anthology called Satanic Hispanics and you're in it." Ed said, "Okay."
Then after we hung up, Mike texted Gigi and said, "Satanic Hispanics, what do you think?" For some miracle, Gigi was in the mood, and she was like, "Fuck yeah!" The only missing piece was to find someone from that was still in Latin America. That was Demián Rugna from Terrified, which we all loved. I got Demián's phone and I bullied him into being in the movie. So, I was doing the approaching, Tiffany.
PopHorror: That's awesome. I'm so glad you guys asked Gigi because she is amazing, and it was really nice to see her included. How did you decide on the script by Lino K. Villa for the The Hammer of Zanzibar?
Alejandro Brugués: It was an original idea I had. Lino wrote, but it was an original idea I had but I was super busy at the moment. I had this idea, I had had it years ago and it's an idea I had from a bit of different places, but essentially I wanted to do it as a feature. I wanted to use that Tarantino chapter structure in a horror feature where you had this documentary crew go to Cuba, witness this ceremony and all the shit that happens to them afterwards.
Actually, the feature version would start with the cafeteria because it was a diner in that version, but we switched it up to the restaurant in the short. Then The Hammer of Zanzibar would have been one of the chapters. One of the things is that I wanted to be very faithful to real life as much as I could. Everything that they mentioned there, the whole idea of the documentary crew shooting something that they shouldn't is something that I saw in the very first job I had working in film as camera assistant back in the nineties. I always wonder, you were not supposed to shoot that thing in that ceremony. What happens because of what you did? I also wanted to be faithful to the Afro-Cuban religions. All these deities, all the ceremony aspects that are mentioned, all that is as close to reality as it can be in such a story. The Popo Bawa is a real demon, turns out.
PopHorror: I Googled it.
Alejandro Brugués: Yeah, I read about the Popo Bawa years ago while reading about demons because that's something that you do sometimes. Well, you saw the Wikipedia page. Of course, when I read that, I was like, "What the fuck? How come no one has done anything with this demon before? What am I supposed… Not to do it? You cannot leave this demon lying around me. I'm going to have to use it." It was like a mix of all those things. Mainly, I wanted to do, again, a horror committee where I felt that I was myself, where I could just unleash all these influences, all these stupid comedy things that made me laugh and, in the end, get to keep a legendary prop. [Note: This is where he reaches behind him and brings out the Hammer of Zanzibar.]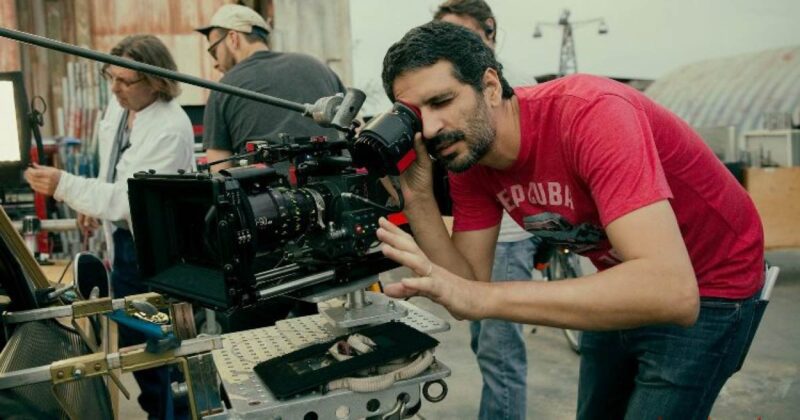 PopHorror That is amazing.
Alejandro Brugués: Yeah. The goal is that by Halloween, everyone is waving Hammers of Zanzibar.
PopHorror: That's so awesome. That leads me to my next question on how did you come up with the design for the Hammer?
Alejandro Brugués: Okay, let me see, how can I say this without going into spoilers? First I texted Mike a ton of pictures. He hated me. Every time he got a text from me, he was afraid to look at his phone. I gave him PTSD, and you really, really, really don't want to see the texts that I was sending. Then we have Norman Cabrera, one of the best sculptors in the industry. He's done a ton of monsters for Guillermo del Toro. If you see his stuff, you're going to recognize a lot of them. He's also Cuban, and he's also a friend, one of the Satanic Hispanics. He was the one who designed the Hammer of Zanzibar.
Again, I sent a bunch of pictures to Norman who doesn't reply to my texts anymore, and we started talking about it. He's a legend. He's one of the best. I said what I wanted, and he pretty much started rolling with it. I remember I was there in his office while he was starting to work on the mold and doing that stuff. I was like, "Whoa, that's a pretty big hammer." He wanted to make it even bigger and you really didn't want to be listening to those conversations. By the way, the hammer does have a lot of detail that it's not, these are symbols from all those religions.
PopHorror: Oh wow.
Alejandro Brugués: There's a lot of love and sensibility put into this.
PopHorror: That's so cool! Thank you for showing me that. I have just one last question for you today. What is your favorite scary movie?
Alejandro Brugués: Oh fuck. Is that like a Scream kind of thing? Scary movie. That's a very, very good question. People ask about favorite horror movie, Jaws. My horror movie that I re-watch most probably, well, other than Jaws, is Evil Dead II, but scary movie?
PopHorror: I use it interchangeably with horror.
Alejandro Brugués: Wait, let's get to it. I mean, something really, really, really scary for me is The Conjuring, that's a really scary one. There are others that I love like The Thing. I don't think The Thing is scary exactly. Yeah, I would say scary… The Conjuring and, well, the original The Grudge really fucked me up every time that kid appeared, I wanted to run. I didn't want to keep watching that fucking movie back in the day. Fuck. Yeah, I guess those are two good scary ones recently. What have I seen recently that's Scary? The Empty Man. I don't know if that was scary, but that was really good. It had good scary bits.
PopHorror: I haven't seen that.
Alejandro Brugués: Oh, it's so good. That's probably the best horror movie that people hasn't seen that I always recommend to see. It's like two hours and 20 minutes or something. Super long but it's so good.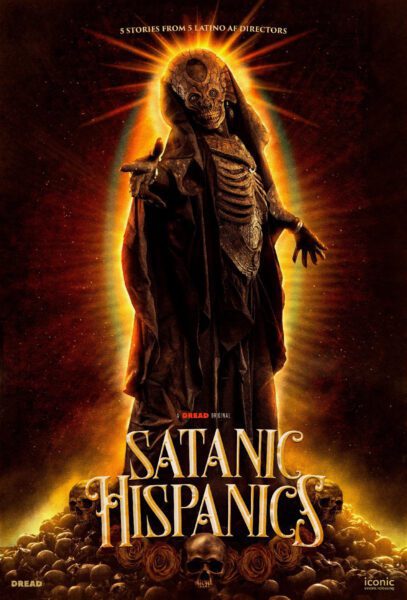 Thank you so much to Alejandro for taking the time to speak with us. Satanic Hispanics hits theaters on September 14, 2023.