Na Zdorivie! In 2005, director Eli Roth started the torture porn craze with his extreme horror film, Hostel. Two years later, he gave us a sequel that had more laughs, and a lot more creative kills! June 8th marks the 10 year anniversary for Hostel: Part 2! 
(Synopsis provided by IMDb.com):
Hostel Part 2 centers around three American college students who are studying abroad and are lured to a Slovakian hostel, soon discovering the grim reality behind it.
Hostel: Part 2 was a proper sequel, simply because it didn't focus on the big mystery behind the hostel being solved by new characters. It continued the story without changing the plot of the original, as a lot of sequels tend to do.
The most iconic scene from the film is undoubtedly Lorna's (Heather Matarazzo) death scene. As Lorna is hanging upside down over a tub and a couple of scythes, Mrs. Bathory (Monika Malácová) lies under her and slashes Lorna up and bathes in her blood. Mrs. Bathory was actually based on Elizabeth Bathory, a woman who, legend says, bathed in the blood of virgins to retain her beauty.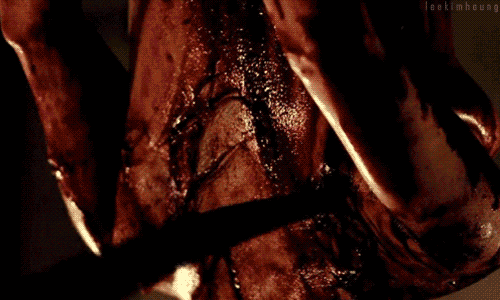 The Hostel franchise has also had some pretty awesome horror cameos. The first film has Japanese horror director Takashi Miike as one of the clients. In Part 2, we get to watch Ruggero Deodato carve someone up and eat them to lovely opera music. Who is Ruggero Deodato? He's pretty much The Godfather of Controversy, as he directed one of the first contential horror films, Cannibal Holocaust. It's pretty fitting that he has a small part in a franchise that most say started the torture porn genre.
Hostel Part 2 was overall a fitting sequel that stayed true to the franchise and brought us more story than horror, but didn't skimp out on the gore. If only the third film followed Part 2's example!