From writer-director Graham Denman comes a fantastic, slick thriller called Greenlight that stars Chase Williamson (The Guest 2014), Caroline Williams (The Texas Chainsaw Massacre 2 1986 – read our retro review here), Chris Browing (Westworld TV series), Nicole Alexandra Shipley (Criminal Minds TV series), Victor Turpin (Ma 2019), and Shane Coffey (Starry Eyes 2014).
Synopsis
A director's dream job quickly descends into a nightmare when he is forced to film a real-life murder.
Jack (Chase Williamson) is a budding filmmaker desperate to make his film debut. But in Hollywood, it's not how good you are, it's who you know, and Jack's a nobody in Hollywood. All he needs is a big break. He gets a phone call to meet with a mysterious (kind of shady) producer named Moseby (Chris Browning) in his soundproofed house. Moseby wants Jack to finish a movie for him after the last director "quit" unexpectedly. We learn later that Moseby has more in mind for Jack than just directing: he wants Jack to film a real murder in the final act.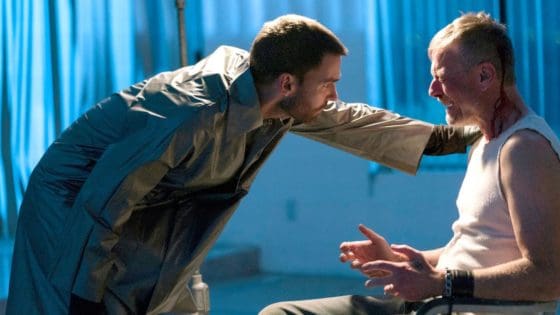 I'm such a huge fan of low budget films that ratchet up the tension and keep it up with one or two sets, a few characters, and minimal dialogue. Greenlight accomplishes all of those. By threatening Jack's life and the lives of the other crew and cast members, Moseby slowly but surely wears away at the man's sanity. It's a great performance by Chase Williamson, and Chris Browning sinks his teeth into the menacing role of Moseby. I also have to give a shout out to my other favorite performance in this film from Caroline Williams, who was just tremendous as Nancy.
I love the dim lighting and claustrophobic scenery which helped contribute to the never-ending feeling of anxiety and desperation that Jack feels as the entire situation threatens to slip out of control at any moment. It's fantastic filmmaking.
There is not a ton of gore, but Greenlight is a great film for all fans of low budget films, thrillers, and great writing. I absolutely recommend it.