Somewhere between Rod Serling and The Crypt Keeper, wandering down the darkest roads of the human psyche, was The Hitchhiker. HBO's first stab at a horror/thriller anthology series ran successfully from 1983 to 1987, then continued its reign on the USA Network from 1989 to 1991. Yet, we don't hear or see much of it these days even with the advent of streaming and the still-kicking DVD/Blu-ray market.
Well, that's what you have me for. I'm always happy to dig up a forgotten horror gem.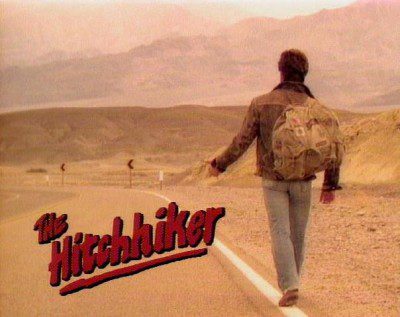 Once a week, mom and I would settle in and get the chills when that eerie theme music began and he appeared, thumb up on a deserted road in the middle of nowhere. Each episode was a suspenseful tale of comeuppance beginning and ending with a poignant talk from The Hitchhiker himself about our darkest character flaws and what could happen if we indulged in them.
The series attracted some of the biggest talents of the 80s like Gary Busey (The Buddy Holly Story (1978), Kirstie Alley (Cheers (1982), and Margot Kidder (The Amityville Horror (1979). Original programming for cable networks like HBO was still a new concept, and The Hitchhiker helped to establish it as an avenue of filmmaking with real staying power. Short half-hour episodes of television with all the naughty bits (adult language, gore, and nudity) still in it? Sign us up!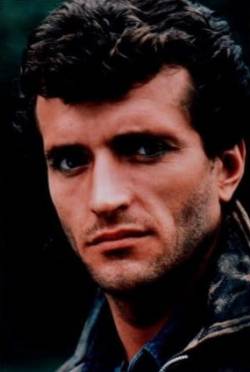 The Hitchhiker, himself, was first portrayed by Nicholas Campbell (The Dead Zone (1983) in the initial three episodes. These three episodes were the pitch used for HBO to test the waters. Once the series was picked up, Campbell was no longer available for the role, and Page Fletcher (Humongous (1982) became the iconic wanderer.
If there were one horror anthology series I'd like to see rebooted, it's this one. The stories were chilling, unpredictable, and often darker than those you'd see later on HBO's next big horror series, Tales From The Crypt (1989). Every week, you'd wonder where The Hitchhiker would be taking us. One thing was for sure – it was nowhere you'd want to go alone.