Several months back, I saw a post on Facebook about a horror film that was rejected by a film festival due to its description, even though the festival people never bothered to watch it. I knew as soon as I saw the rejection letter that it was a film I had to see. That film was 3 Dead Trick Or Treaters. Recently, I got the chance to finally check out the film. Read on for my thoughts.
3 Dead Trick or Treaters was written and directed by Torin Langen (Late Night Double Feature 2016) and stars Holden Levack, Jeremy Charles Singer, Raven Cousens, Youp Zondag, Emma McDonald, Rebecca McAulay, Mickey Conde,  Erin Stuart,  Rebeca MacKinnon, Eric Repke, Maxwell Lantz, Olivia Susan Pluard, Mike McCarville, Andrew Smart and Lindsay Stewart.
After stumbling upon the graves of three murdered trick or treaters, a small town paperboy discovers a series of handwritten horror stories tacked to the children's headstones. Penned by a deranged pulp author driven mad by his craft, the stories chronicle grisly tales of Halloween rites, rituals and traditions. Absent of dialogue and heavy on atmosphere, 3 Dead Trick or Treaters is a horror anthology unlike any you've seen before.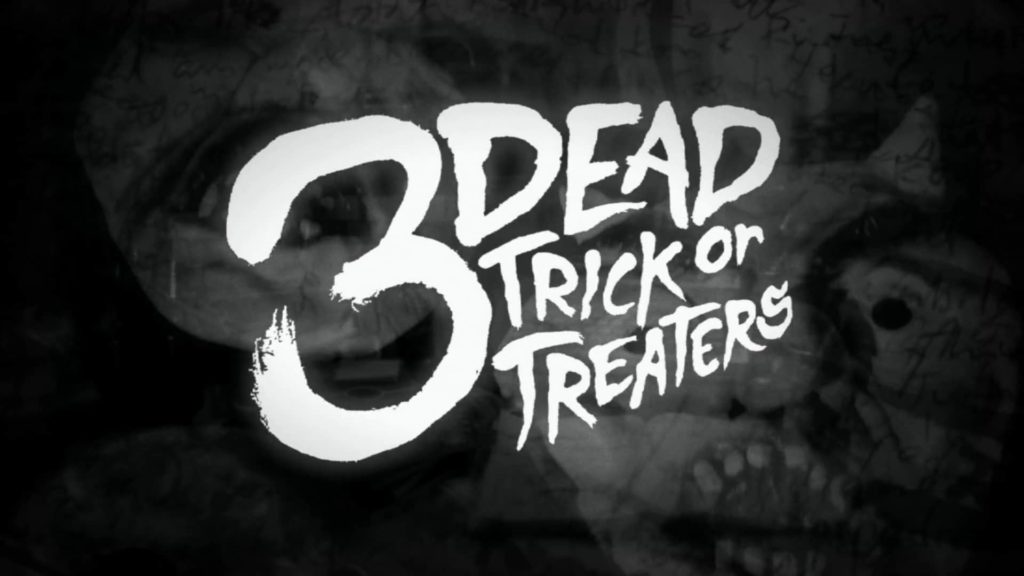 Since this is an anthology, I will cover the various segments and then look at the movie as a whole.
The first segment is titled Fondue and it follows two teens who meet up for an unconventional Halloween tradition. This segment is nasty, and I don't mean that it's gory. I mean that it's cruel, sick and twisted. How someone could be so fucked up and evil that they enjoy doing what the two teens do in this story is beyond me. What makes it worse is it's obvious that they aren't the only ones partaking and that this is a yearly thing.
The second segment is called Malleus Maleficarum. This one follows a town with ritualistic religious beliefs. This segment shows what can happen when religion is combined with mass hysteria and paranoia, and then takes over a small town. These are the lengths religious fanatics will go to stick their beliefs. When a sacrifice must be made, it can be anyone if necessary, even those closest to us, which is pretty disturbing.
Stash is the third segment. It follows a group of homeless and hungry teens and the lengths they will go to satisfy their hunger. Even though the teens here are homeless and hungry, they were hard to sympathize with. They stood on the corner begging for money or food, yet failed to empathize with someone else in the same predicament. This just goes to show that humans as a whole tend to care only about what directly effects them.
The fourth segment is Delivery and it follows two crooked cops and the contraband that they sell. What it is and for what purpose, I won't say. Suffice it to say these two are complete pieces of shit. People who uses their authority for personal gain while inflicting pain on others are the worst kind of people.
The wrap around segment follows a paperboy who discovers the graves of three murdered trick or treaters with written stories stuck to their grave markers. Will he be the deranged writer's next victim? I'm not telling.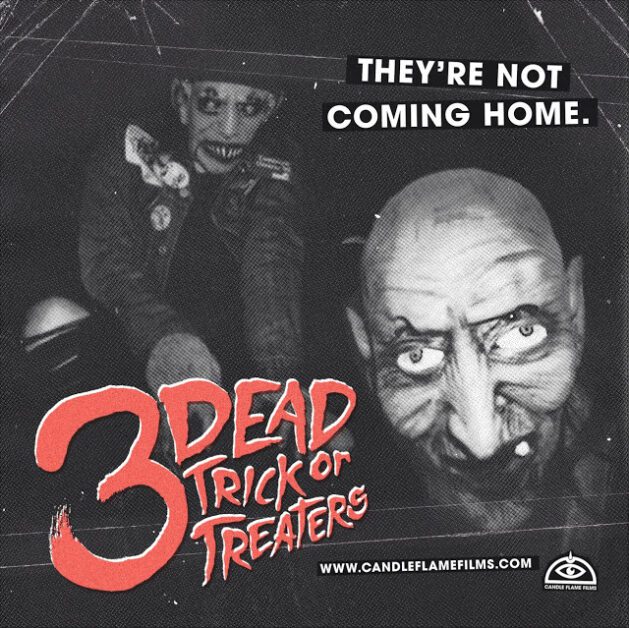 The film explores what happens when a writer's constant rejection causes the line between his stories and reality to blur. The segments focus on themes such as necrophilia, cannibalism, murder, ritual sacrifice, the abuse of authority and religious fanaticism. The film, besides the occasional scream of pain or muffled plea for mercy, features no dialogue. Between this and the dark subject matter, this is not a film for casual horror fans. I'm a pretty devoted horror lover and even I found the film hard to watch at points.
There are very few characters to root for here and even when there are, this isn't a film made for happy endings. There is little to no background given but there is no reason to believe that the victims deserve their fate, which makes it all kind of sad. They were just in the wrong place at the wrong time or a victim of circumstance. That being said, the film is visually interesting and left me trying to fill in details on the various characters and their backgrounds and motivations. This is something I have thought about frequently since my initial viewing and hasn't decreased after my second viewing. This isn't a film I will forget anytime soon.
Final Thoughts
3 Dead Trick or Treaters is for hardcore horror fans who aren't interested in a brainless bloodbath and for fans who want a little more to digest. The film is full of dark, disturbing and twisted subject matter that hasn't left my mind in days. To sum it up, 3 Dead Trick or Treaters is a dark descent into pure Halloween Hell.