I have been a horror fan since I was a little Danny Glick floating outside of peoples' windows. My mother was wonderfully irresponsible and had nothing but contempt for the norms of motherhood; because of this, she read Stephen King novels to me at bedtime and allowed me to watch The Thing (1982), Creepshow (1982), Halloween (1978) and Return of the Living Dead (1984) at the tender, impressionable age of nine.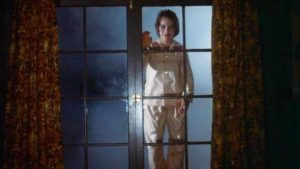 Following my year-long anxiety attack surrounding said novels and movies, my indoctrination into horror was complete. I was hooked! Ever since that time, I have been in tenacious pursuit of terror. I am a long-time painter and sculptor of the morbid and macabre, and this genre, along with its monsters of all types, has always been my muse. I humbly consider myself a horror aficionado and have set out on a mission to share and indulge in the wiles of fear with all like-minded folks who have vast affection for our grand genre.
  Now, I have a million different horror movies that I love for a million different reasons, so picking just one is impossible. Therefore, I'll go with my recent favorite, Circus of the Dead (2014 – read our review here). Directed by Cowboys From Hell's Billy "Bloody Bill" Pon (read our interview with him here), written by Bloody Bill and Lee Ankrum (Dollboy 2010), and starring the greatest face in horror, Bill Oberst, Jr. (DIS 2018 – read our review here) as the salacious and sinister clown, Papa Corn (read our interview with the clown here), this spit-slathered filth flick somehow managed to escape my glazzies until 2019. I was working with my long-time friend and fellow filth fiend, Jesse Norvisgardd (The Good Things Devils Do 2020 – read our review here ) on illustrations for the Devils movie, which also stars Bill Oberst Jr., and he happened to mention Circus of the Dead as one of the greatest, most depraved horror movies he'd ever seen. Now, when I was 12, I turned Jesse onto Return of the Living Dead (1984), Evil Dead 1 (1981) & 2 (1987), and many others, so he was just paying it forward like we do. I really trust his acumen, and when I finally sat down to watch it… I was totally blown away.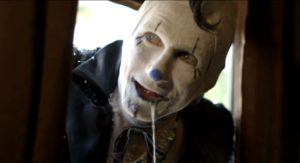 There is a gritty intensity to this movie that is visceral and difficult to capture. The characters are so deep, interesting and vital that they make the movie watching experience a lasting one. The writing by Bloody Bill and Lee Ankrum deserves the highest of props from the hallowed halls of horror. I can't stress this enough. While I often try to find something positive in any horror movie, this one kept delivering over and over again without my wishing for one second.
Of course, Papa Corn—with his drooling and licking windows while pleasuring himself to copulating future victims, orchestrating the abduction of children for his diabolical game, forcing victims to shoot other victims, molesting severed heads, and forcing himself on unsuspecting women—is the standout evil clown here, but the other clowns are just as 3D! You think, "Okay, Papa rules, but the others are just there to facilitate his antics." Not so!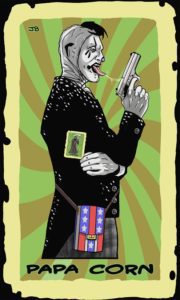 Mister Blister, played by Cowboys From Hell, Rusty Edwards is so goddamned good! This psycho clown is the glue that holds the gang together. He is unsettlingly serene, always in control, and devious to a fault. He comes out of nowhere to thwart peoples escape, knows how to handle the cops, loves porn and video games… and the list goes on! While I love me some Papa Corn, Mister Blister is the Cherry Dr. Pepper to Papa's original Dr. Pepper.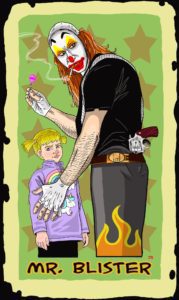 That brings me to Jumbo the Clown (Mike Williams), who is the creepiest little booger wrangler with googly eyes to ever put on clown makeup. He chirps like a little devil monkey, and his unsettling presence is matched in maliciousness only by this weirdo fucking puppet (with a gun under it, of course) that really is the cherry on top. Now we're on to Noodledome the Clown, owned by Ryan Clapp (Krampus: The Devil Returns 2016). This guy… shivers. It's not his giant, blood-soaked wooden hammer or his penchant for drinking blood… but rather, it's that frozen smile and blank stare that is the real fear food for the soul. When you can kill someone with a garden gnome, and it's actually scary as opposed to ridiculous, you're doing all the right things.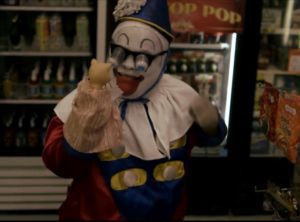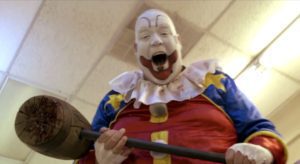 Even the background clown characters, Doll Boy played by OG Doll Boy, Sergio Gracida (Doll Boy 2010), and Kyle Mueller's chainsaw-wielding Pepe the Mime, come from a real place of ancillary greatness. This is what I'm saying… they all deliver!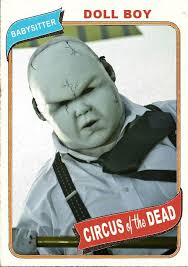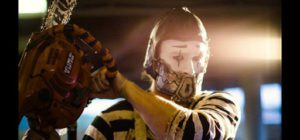 The indie, low-budget milieu of this film actually enhances it in a way that is difficult to describe. Rather than coming across as cheap, it pulls you into the reality and dire situations unfolding on the screen. The acting is edgy, the story is flat-out amazing, and the cinematography is astute and skillful. Circus of the Dead holds up very well after many, many viewings and has a dark charm that will carve it into the Horror Halls of Fame forever!