Coming soon to digital platforms and select theaters is a new film from director Alberto Vazquez (Birdboy: The Forgotten Children): Unicorn Wars. The animated film stars the voice talents of Jon Goiri (La crisis Carnivora), Ramon Barea (Stories to Say Awake – TV Series), and Maribel Legarreta (Island of the Crab).
Here's a look at the official poste art!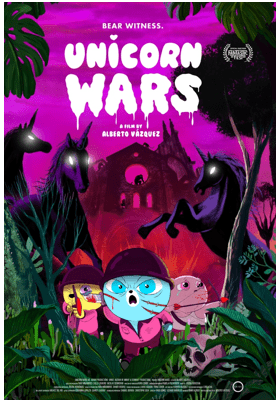 Unicorn Wars Synopsis
For ages, teddy bears have been locked in an ancestral war against their sworn enemy, the unicorns, with the promise that victory will complete the prophecy and usher in a new era. Aggressive, confident teddy bear Bluet and his sensitive, withdrawn brother Tubby could not be more different. As the rigors and humiliation of teddy bear bootcamp turn to the psychedelic horrors of a combat tour in the Magic Forest, their complicated history and increasingly strained relationship will come to determine the fate of the entire war.
Check out the trailer below:
Unicorn Wars will be available on March 12, 2023. Watch for it!