If you don't know already, the ever so talented and beloved actor Nelsan Ellis passed away recently due to heart failure. Most horror fans know him from the hit HBO series True Blood as the flamboyant and lovable Lafayette Reynolds aka Lala. He was the main character throughout the series and a fan favorite. Here is my little tribute to Lala and my fellow True Blood fans.
I've always been a True Blood fan. I watched all 7 seasons and despite its downfalls remained a loyal viewer. I also read all 14 of the books that the show is based on – The Sookie Stackhouse Novels. Both the series and books had their ups and downs, but there's one thing the show had more of and that was Lafayette. Without giving away any spoilers, the books only brushed upon his character while the series excelled because of him. I can't imagine that world without Lala and all that he brought to the table.
Favorite Scenes/Memories with Lafayette:
We're first introduced to Lafayette at Merlotte's bar and grill. He is one of the cooks and right away you can tell he's a character you're going to love – fierce and fabulous. He wasn't afraid to say what was on his mind or be who he truly was. Something I truly admire.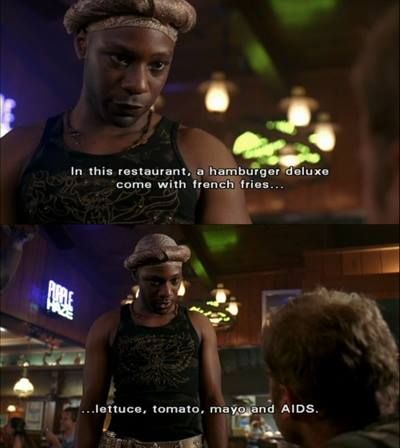 One of my favorite scenes is an early one from Season 1. Where he basically tells a bunch of rednecks to fuck off in a way only Lafayette could. I'd eat a burger from him any day of the week!
His character is one that has a big transformation throughout the series. He goes through a lot just like everyone else – abducted by a blood-thirsty vampire, family problems, relationship problems and more. However, despite what you may think he was actually the one with the least in his life. He always attempted to steer far away from that shit even when it was breathing down his neck.
One of my favorite memories of him is when he meets Jesus. You could tell he finally found someone he could be his complete self with. They connected on a level that many wish they had but never will and it was beautiful. Their story was heart-wrenching, but worth every tear.
Beyond all this, Lafayette was known most for delivering awesome one-liners, commentary, and advice.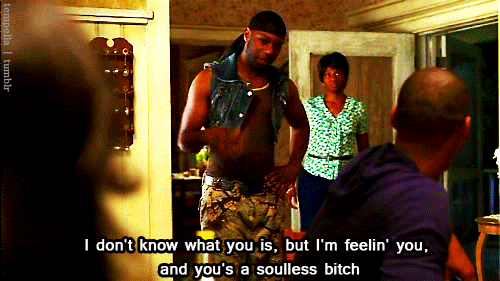 Here are some of my favorite quotes of his:
"You're too busy praising Jesus to realize your daughter wants to move in with him permanently."
"I ain't Gmail for dead b*tches."
"Marnie just puked that bitch out.'
"Wrong place at the wrong f*cking time' oughta be my middle f*cking name!"
"Hooker, you know I'm right."
"Well, hey there sugar boo-boo. Now, what is you doing here at yo place of work? Cause I know it ain't work."
"That's the sickest thing I've seen in TV. And I watch Dance Moms.
"Arlene, these beans is colder than titties in a brass bra.
"I felt like a giant-ass puppet for your ghost uncle."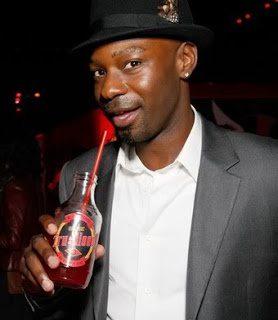 Overall, I hate to think about the loss of this talented man but am very thankful for all the memories Nelsan Ellis left us with. What is your favorite episode with Lafayette Reynolds or favorite quote? Let us know and thanks for reading.