Three decades ago this month, the TV show, Tales From The Crypt, premiered on HBO for the first time. The series ran for seven years from June 10, 1989 until July 19, 1996. Based on E.C. comic books of the 1950s and hosted by the legendary Crypt Keeper, a sinister ghoul obsessed with horrific puns, the show gave us a different story every week. To celebrate Tales From The Crypt premiering 30 years ago today, we have come up with a fun list of our choice of best episode from each season. Enjoy!
Although we know there are 93 brilliant and fun episodes, we are only listing one episode per season to keep it manageable.
Season One
Episode 2: "And All Through The House"
Plot: A greedy woman (Mary Ellen Trainor) makes the mistake of murdering her husband while an escaped mental patient (Larry Drake) dressed in a Santa Claus outfit is on the loose.
Season Two
Episode 16: "Television Terror"
Plot: A TV shock journalist (Morton Downey Jr.) gives an on-air tour of an eerie haunted house.
Season Three
Episode 14: "Yellow"
Plot: During World War I, it's the 49th day of continuous battle on the front lines. Lieutenant Martin Kalthrob (Eric Douglas) doesn't want to be in the army anymore and asks his father, General Kalthrob (Kirk Douglas), for a discharge. His father refuses but says he will transfer him to the rear if he leads a patrol to the German lines and fix the broken communication line. When he proves himself to be a coward, his father is not happy.
Season Four
Episode 6: "What's Cookin'"
Plot: Married couple Fred (Christopher Reeve) and Erma (Bess Armstrong) have a restaurant that has seen better days. But things change once a stranger (Judd Nelson) walks in with a rather unique steak recipe…
Season Five
Episode 1: "Death Of Some Salesman"
Plot: A conniving con-man (Ed Begley, Jr.)  posing as a salesman gets more than he bargained for when he comes knocks at the door of the wrong family.
Season Six 
Episode 15: "You, Murderer"
Plot: Plastic surgery makes a criminal (Humphrey Bogart) look like Humphrey Bogart. Years later, he's a successful businessmen. His angry wife finds out about his past and threatens him. He asks his plastic surgeon friend (John Lithgow) to end her. Twist after twist ensues.
Season Seven
Episode: "Confession"
Plot: Evans (Eddie Izzard), a sly horror screenwriter suspected in a series of grisly murders of women whose heads were taken by the killer as trophies, is interrogated by Jack Lynch (Ciarán Hinds), a clever hard-boiled homicide detective whom every cop idolizes.
Fun Facts
1.) John Kassir, voice of the Crypt Keeper, often had to swallow lemon juice and honey to sooth his voice after doing his lines.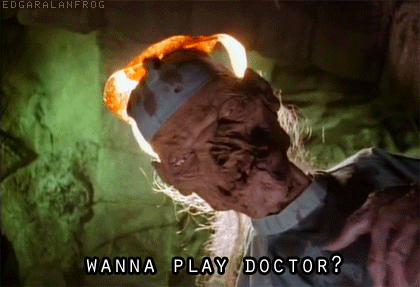 2.) It took six puppeteers to control the Crypt Keeper, four of which were just for his facial expressions.
3.) Death Becomes Her (1992), which was directed by the show's producer, Robert Zemeckis, is often said to be an extended episode of Tales From The Crypt.  
4.) The set of the introduction AKA The Crypt Keeper's home was actually the size of a miniature golf course. Small Snorkel cameras were used to shoot the scene. However, the descent into the Crypt at the end is computer generated.
5.) The show was originally planned for only three seasons, but it became very popular and lasted for seven.
We hope you enjoyed our Tales From the Crypt Top Episode Per Season list! Let us know in the comments what your favorite episodes are.
Check out our Tales From the Crypt Top 10 Celebrity Cameos list right here!