The Klondike Incident is the third short I've reviewed for P.P. Urpansoph Films and, by far, my favorite of the three. I just finished watching it and I'm still giddy with excitement and shock. These guys just keep getting better and better!
The short was once again co-written, co-produced and co-directed by both Gary Berger and Josh Mowatt. Although Berger spends the most time onscreen, Mowatt does have a bit of a cameo towards the end. Both men starred in, directed and wrote the previous two P.P. Urpansoph Films – Servus de Infernum (2016) and The Final Photograph (2017).
The Klondike Incident is a found footage film that tells the story of a man on the hunt for a witch's grave in an Oklahoman cemetery. Although he never specifies which witch, he does give a bit of background on the cemetery itself. What we see is the footage found on Gary's camera phone after he went missing. It begins much like so many other found footage films. I was afraid, at first, that this was going to finish like an average found footage film, but I was pleasantly surprised. I LOVED this ending! Since The Klondike Incident is the first in a four part series, Gary and Josh cannot make part two fast enough for me.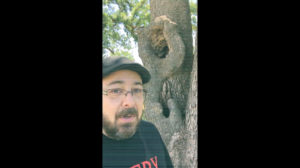 One thing I noticed was the difference in Gary's voice for this short. When he narrated The Final Photograph, he sounded dark, sinister and mysterious. But in The Klondike Incident, he sounds relaxed – almost jovial. If I hadn't known that both parts were played by Gary Berger, I never would have recognized his voice. Bravo!
Once again, P.P. Urpansoph Films is letting us share their short with you for free. So check it out below and let us know what you think. And if you see Gary, make sure to send them an email.