They're Baaaaack… But Scare Package II Isn't Your Average Horror Sequel
During 2020, like most of the world's population, I watched all the things streaming had to offer. So much so, many shows and films I watched became a blur. But Scare Package stood out and was easily one of my top favorite films for the year. I often hear groans at the announcement of a new horror sequel coming out, but I was beyond geeked for Scare Package II because I enjoyed the first so much.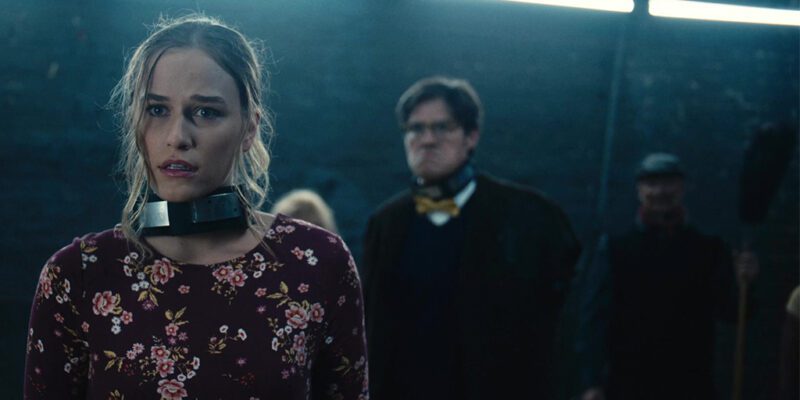 Aaaand once again, you failed to take horror seriously. You mocked. You laughed. You called horror a 'B movie.' – Sam
Horror sequels get a bad rap because they don't always live up to expectations. If you're going to do it again, you have to take it up a notch, and completely subvert audiences' expectations. And then to do it with an anthology? Scare Package was so refreshing and unique with its own special vibe and full of ridiculous laughs. But Scare Package II soared above and beyond.
Synopsis
When horror guru Rad Chad Buckley's funeral turns into an elaborate series of death traps centered around Chad's favorite films, the guests must band together and use the rules of horror to survive the bloody game.
Jessie (Zoe Graham Erzulie 2022) returns for a questionable sequel – to attend the funeral of Rad Chad Buckley (Jeremy King Scare Package 2019) – and is joined by an odd grouping of mourners with varying connections to Chad. Almost immediately following the funeral, the group learns they're trapped in the funeral home and have to work a series of rooms and puzzles to escape with their lives, à la Saw.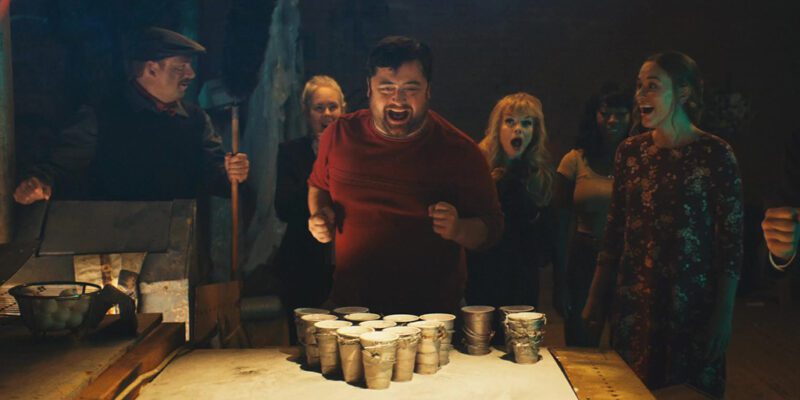 In between the puzzles, you have the movie recommendations from Chad (from beyond the grave) via a VHS recording shown on a tv wheely cart and his mysterious Jigsawesque accomplice. As the group works through the puzzles, their numbers dwindle until the remaining few discover a shocking secret about Chad's demise…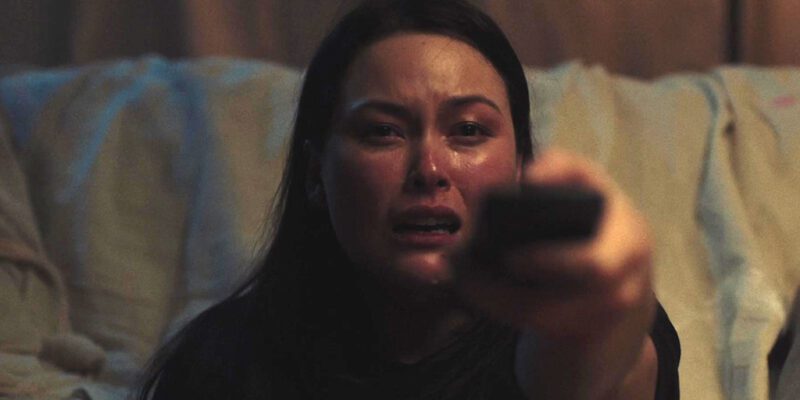 What To Expect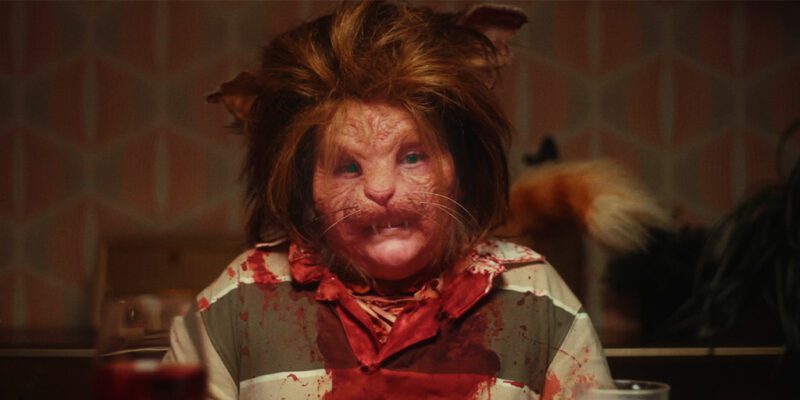 Inspired by his passion for escape rooms at the time, and his love of the Saw films, Aaron B. Koontz (The Pale Door 2020) concocted this zany idea for a sequel with co-collaborator Cameron Burns (The Pale Door 2020), that is not only a love letter to the first Scare Package fans but also an ode to horror sequels done in Scare Package style. Not to mention the incredibly awesome twist of an ending that has me hopeful and super excited for a third entry. But let's not get ahead of ourselves. You all have to watch Scare Package II and rave on and on about it so Shudder can give Paper Street Pictures the green light. So what are you waiting for?! Go watch it!
Oh, I've got to take a Brad Pitt." – Bo Buckley
Scare Package II brings with it a whole new set of stories from writers/directors, Alexandra Barreto (Coach Montes All American 2023), Rachele Wiggins (art department Alien Covenant 2017), and Jed Shepherd (Dashcam 2021). Anthony Cousins and Aaron B. Koontz himself add to the segments and wraparound story. Additional writers contributing to each segment include Cameron Burns, Ryan Schadleede (special makeup effects artist for Old Man 2022), and John Karsko (Kill Me 2019).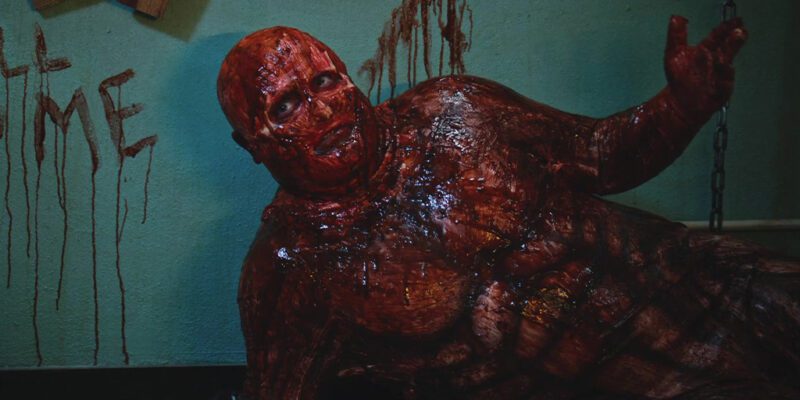 The Four Stories
Welcome to the 90s – It's New Year's Eve 1989 and the ladies of the Final Girls House aren't taking any risks with ringing in the new year with all that pesky booze and sexy stuff. But when masked killer Tony, chooses to pay them a visit instead of the women of the Sure to Die House, things get a little messy. Mess turns to chaos when Buffy comes from STD in search of a beer bong.
The Night He Came Back Again! Part VI: The Night She Came Back- A horror sequel inside of a horror sequel. If you saw the original Scare Package, you'll recognize the familiar face, and snicker…
Special Edition – featuring the Host cast, four friends help another friend who's lost her brother, pack up his home when they discover a sealed copy of Three Men and a Baby, and speculate over the validity of the "ghost boy" lore. Special Edition is a little more on the spooky side with subtle chuckles.
And the last of the stories, We're So Dead – A non-stop laugh fest that blends Re-Animator and Stand by Me, with a sprinkling of The Fly, Shaun of the Dead, and tones of It. Proving that children shouldn't play with dead things…
Final Thoughts
I can't say enough positive things about Scare Package II. It really does kick the horror sequel curse to the curb. It's so much fun and if you're a trivia nerd, it's chock-full to the brim with references, stuffed in Easter eggs, wrapped in some meta.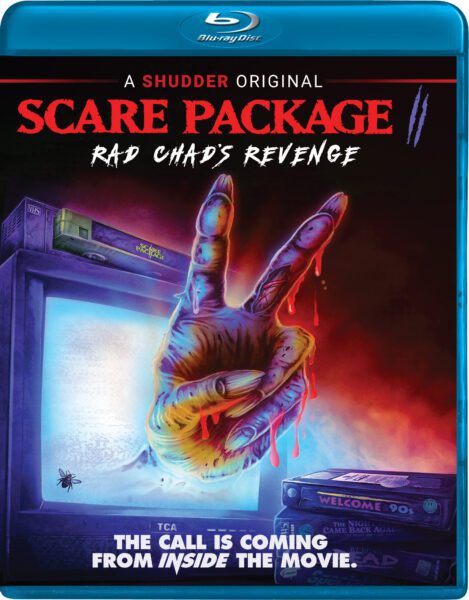 And speaking of all that trivia goodness, physical media drops on April 11th, and one of the special features is a VH1 Pop-Up Video style version, where you can watch the film and get all the references! For those unfamiliar with Pop-Up Video… I'm sorry. I'm sure there are clips on YouTube.
Otherwise, Scare Package II is currently streaming on Shudder and will be available VOD as well, on April 11th.