When I first went to watch the movie Everlasting, Gloria Estefan's rendition of "Everlasting Love" came to mind. "Open up your eyes, then you'll realize, here I stand with my everlasting love!" Although this song did not play at all throughout the movie, I somehow wonder if it could have possibly inspired it in some way. To me, Everlasting is a love story that ends in a dark, horrific tragedy. Sometimes these types of movies are more horrifying then any of the gory ones, for the simple fact that this could and actually does happen. Everlasting conveyed a story that needs to be told and it is absolutely frightening.
Written and directed by Anthony Stabley, Everlasting is a cautionary tale about how we can either let the darkness completely compel us or we can chose to let love overcome all. The plot follows Matt (Adam David), a senior in high school doing his final film project. The video he starts to make is about him and his girlfriend, Jessie (Valentina de Angelis), as they embark on their journey of love which leads them to LA. Flashbacks take us back and forth throughout the movie, so we know right away that this project soon leads to Jessie's murder.
Jessie's life is less than ideal with a drunken mother that's never really around. All she seems to have is Matt. It's obvious that she wants more out of life. While in LA, she was scouted by a talent agent and got an offer to do some modeling work. Matt does not want her to go. She goes. A few months later, she's dead. But why? Matt receives a mysterious package with Jessie's filmed murder tucked away inside. This becomes what his movie is now about. Tracking down the killer that murdered the love of his life. As he goes through the motions of uncovering this mystery, will he lose himself in the process or will the true power of love set him into the light?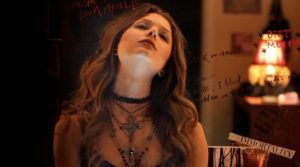 Why is this movie so enticing? For me, Valentina de Angelis steals the show. She is beyond stunning and every time she is on screen, you can't take your eyes off of her. She is a true star in the making. Not only is she beautiful, her character is so amazingly written that you want to see nothing but the best for her. Although you know right away that she has been murdered, Stabley did a masterful job of keeping her journey fresh throughout the film. That's something I believe sets Everlasting apart from all the others. Not only do you see Jessie's journey into the darkness, you see Matt's as well. Two different aspects of the depths people are willing to go to get what they want. There are so many layers to this story. It's happy, it's sad, it's tragic, and it's beautifully filmed overall.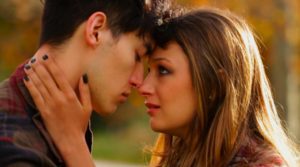 Final Thoughts:
There is a reason Everlasting has a 8.1 rating on IMDb.com. In my opinion, it's all due to Stabley's ability to tell a chilling love story. I have never felt the chemistry of a couple on screen the way that I did with Jessie and Matt. They were so relatable. Watching them was like being in high school all over again and reliving certain moments of my life. It's amazing to see something on screen that you had nothing to do with, yet it takes you to a certain place and time in your own past. The ending may bring tears to your eyes.
I wouldn't call Everlasting a horror movie per say, but it does have chilling moments that stick with you long after you watch it. A movie that can bring out any emotion whatsoever in me is solid in my book. I don't want to give anything away, so no spoilers in this review. I feel that this is a movie that needs to be watch and recommended. I wouldn't want to ruin anything. You should go into this movie with fresh eyes, like I did. It certainly made an everlasting impression on me.