Renowned dark artist Sam Shearon has the perfect Christmas Cards for horror fans. But you'll need to act fast. They are only on sale through December 5th!
Check them out and read on for the details!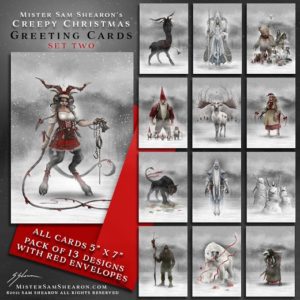 About Sam Shearon
Sam Shearon, also known as 'Mister Sam Shearon', is a dark artist born in Liverpool, England. Specializing in horror and science-fiction, Sam's work often includes elements inspired by vintage tales of monsters and madmen, dark futures, post-apocalyptic genres, and classic literature.

Sam has illustrated album artwork and merchandise designs for rock bands such as Rob Zombie, Slayer, Iron Maiden, Ministry, Rammstein, Jason Charles Miller, Powerman 5000, Biohazard, DOYLE, American Head Charge, Fear Factory, HIM, ORGY, Godhead, A Pale Horse Named Death, King Creature and Kill Devil Hill.
These awesome Creepy Christmas cards are available now through Mr. Shearon's website here!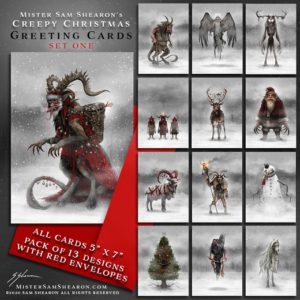 Holy cow, these are super cool! I really love the art style and can't wait to pick up a box of these for myself!
How about you? Will you snag a box of Creepy Christmas cards to spread the holiday fear this season? Tell us in the comments!