The world doesn't have enough werewolf flicks, in my humble opinion. The lore of Lycanthropes, their bloodlust, and what I imagine would be a powerful, painful transition into a beast, have always intrigued me. 
Contemporary times have left horror fans with a short stack of worthy werewolf titles. Some of the more notable are Dog Soldiers, Wolfcop, Late Phases, and Howl; each offering a unique perspective to this time-honored horror. Here to help add to the beloved subgenre is Texas native director Mark Cantu (Massacre Academy, Elite) with his latest effort, Wolf Hollow. 
Set in picturesque rural Pennsylvania, Wolf Hollow opens with a fireside slaughter that befalls an unfortunate group of individuals looking for a good time. Chaos ensues when partygoers' throats are clawed open and limbs are torn apart by rampaging werewolves as one of the attendees, Ray (Noah J. Welter) watches in silence. And this is where Wolf Hollow earned my attention.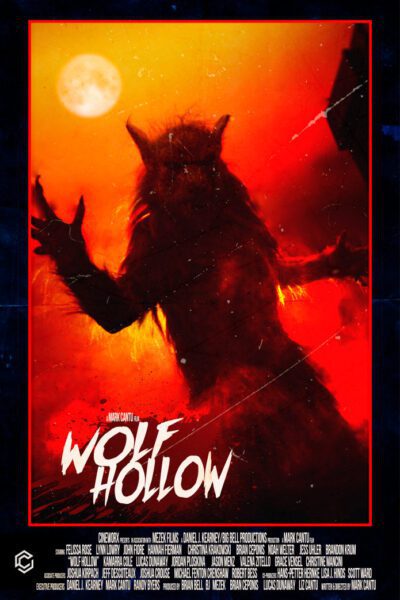 A year later and seemingly unphased by the previous carnage, Ray decides to return with a film crew as they begin location scouting for the upcoming arthouse feature they are all attached to work on. Leading them to Wolf Hollow Township and the haunted attraction that is owned by his estranged family, Ray elects to omit that he is the sole survivor of the attack witnessed in the opening. An uncomfortable reunion between Ray, his older brother Bart Neuri (Brian Ceponis who is also responsible for providing the story of Wolf Hollow), and sister-in-law, Evie (played by fan favorite Felissa Rose in a refreshingly uncommon role for herself) unfolds but does little to dissuade the group, including the young, intrepid producer, Alex (Christina Krakowski, The Spark),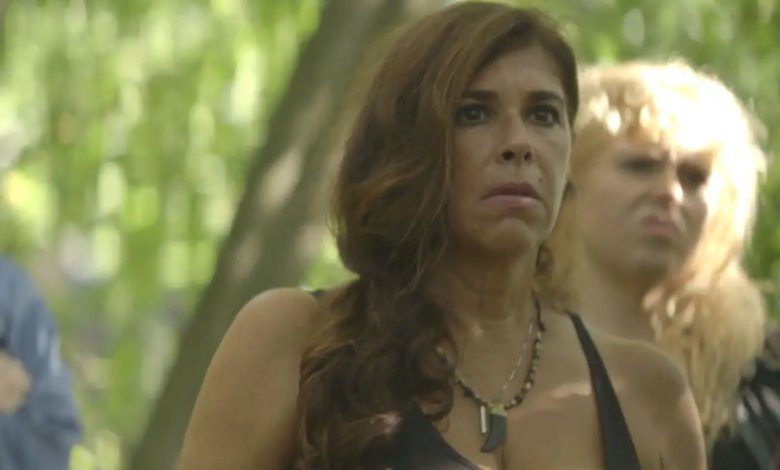 The film crew is rushed into their schedule, overseen by the overbearing and untested director, Beth (Jess Uhler, The Boonies), who almost immediately puts her cast and crew – including their diva-like star Marla (Lynn Lowry from The Crazies, Shivers who also serves as Executive Producer on Wolf Hollow) – into a dangerous situation that ultimately begins a night of moonlit terror. 
Mark Cantu and Brian Ceponis come together to make Wolf Hollow successfully walk the line of delivering something entertaining while not taking itself at all too seriously. Properly helping extend the lineage of the modern-day Lycanthrope, the duo includes the name of Neuri in the narrative – an ancient nomadic tribe known to shapeshift into wolves introduced to the world through early Greek mythology. With that being said, laughs aren't far behind the bloodshed that follows not only our doomed film crew but local cops and wanna-be politicians which include VHS' Hannah Fierman. 
Let me please mention that this werewolf design, courtesy of Midnight Studios FX, is impressive and deserves all the love it receives. The full-bodied suit is detailed, menacing, and highly effective. Wolf Hollow hinges not only on the money it raised from the successful Indiegogo campaign ($40,000 USD), but the heart of its cast and crew that helped craft an incredibly bloody, well-paced piece of horror with plenty of humor. Propelled by the practical FX and solid performances from both its veteran and up-and-coming indie horror talent, Wolf Hollow deserves a gander. 
Wolf Hollow will have a limited theatrical release beginning this early April, but you can still order First Edition DVDs and Blu-rays via the Wolf Hollow Indiegogo HERE, which are estimated to ship in April 2023. 
Be sure to watch the trailer below!