Some of you may know of the character icon known as Onyx or the "Weird Satanist Guy" and if you don't you will now. Filmmaker Andrew Bowser created this character back in 2012 and is now making a film about him and all his crazy adventures. Learn about his career, details about his upcoming horror-comedy, Onyx the Fortuitous and the Talisman of Souls, and much more!
PopHorror – Hi Andrew! What inspired you to become a filmmaker?
Andrew Bowser – I grew up acting as a child in the D.C. area and hated auditioning. I didn't like the lack of control I felt and didn't like the idea that producers and casting directors could "change the plan" on me by handing me new scenes or asking me to do a dialect on the spot etc.
After a particularly nerve-inducing audition for a musical where the accompanist played my audition song in the wrong key – I remember thinking to myself "I don't want to feel this way again! I want to be the one leading the creative and help running the room!" So I began to pursue writing and directing.
PopHorror – That's the way to do it! For those who don't know can you tell us the story behind Onyx?
Andrew Bowser – Onyx is a character I started performing in 2012 that was born out of my job at the time. I was working for a digital company shooting video packages at conventions and expos like Comic-Con and E3. I thought I could do a character that appears in a package like this, and shoot the whole thing from scratch to make it convincing as a "real" package. I had this nervous character I'd been working on that always said "I dunno" and the two ideas blended perfectly! I shot the first "Onyx" video at E3 2012.
PopHorror – That's awesome! Can you tell us what your new horror-comedy, Onyx the Fortuitous and the Talisman of Souls is about?
Andrew Bowser – It's about my character Onyx, entering a contest to attend a once-in-a-lifetime ritual to be performed by a Satanic leader (Bartok) he has admired all his life. Onyx and a few other contest winners arrive at Bartok's mansion – only to find their leader has…well let's just say…not the BEST of intentions for them. He plans on stealing their souls and trapping them forever! It's up to Onyx and his new friends to stop Bartok before he imprisons them and takes over the earth with his hellish plans.
PopHorror – I'm loving it! What was the inspiration behind this film?
Andrew Bowser – All of the films I grew up on, Fright Night, Poltergeist, Gremlins, and even Ghostbusters. The "horror/adventure" movies they don't make anymore. They were warm, but frightening, had a lot of heart…and a lot of monsters and goo!
PopHorror – YESSS!!!! What is your ultimate goal for it?
Andrew Bowser – I would love for this film to lead to a SEQUEL for Onyx!!! Where we play in other sub-genres. Or maybe a spin-off TV series? That would be amazing.
PopHorror – That would be great. Maybe both will happen! I know this film is in the vein of 80s films like Gremlins and Fright Night. Are those some of your favorite films? What are some of your other favorite horror films?
Andrew Bowser – I LOVE Night Of The Creeps and The Monster Squad as well. The tone of Fred Dekker's films is one I feel very attuned with. Same for Joe Dante, Gremlins and Innerspace, and The Burbs was huge for me too. Put all of those in a blender and you get THE TALISMAN OF SOULS! The big thing is these films had HEART. They had wonderful characters and were great at world-building too.
PopHorror – Your Kickstarter for The Talisman of Souls was a huge success and got a lot of support from the community! When do you plan on filming?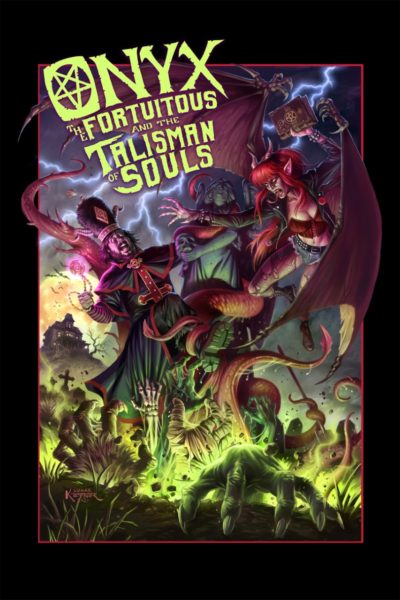 Andrew Bowser – I would love to be shooting the fall! On the East Coast maybe! In a haunted mansion!
PopHorror – Hell yes! Do you have an idea of when the estimated release date will be?
Andrew Bowser – I would love to be shopping it to distributors and entering festivals in early 2022!!!
PopHorror – I look forward to watching it and reviewing it. Good luck with all your future endeavors! To everyone else, please make sure to check out the script reading down below!