A new trailer and poster have been revealed for the new British horror film directed by Russell Owen (Inmate Zero) called Shepherd. The film stars Gaia Weiss (Vikings TV series), Kate Dickie (The Witch), Tom Hughes (Cemetery Junction), and Greta Scacchi (Rasputin). Shepherd will have its World Premiere at BFI London Film Festival on October 14, 2021, and will be in theaters November 5, 2021.
Here is the new poster: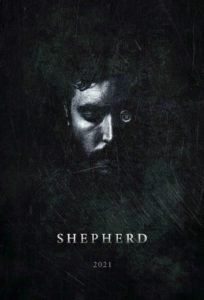 Synopsis:
Running from grief after the mysterious death of his wife, Eric Black takes a job as a shepherd. Trapped alone on a majestic weather-beaten island with an ominous secret, one man's spiraling madness meets a vengeful, supernatural force. What starts as the perfect wind-swept escape becomes a race to save his sanity and his life.
Check out the trailer below: