I'm always a wee-bit hesitant when watching a new age, family-friendly Halloween film as many of them don't seem to capture the same fuzzy, warm, and wholesome vibes that I loved as a kid such a Hocus Pocus, Halloweentown, and Casper. However, I'm happy to say that Netflix's The Curse of Bridge Hollow delivers just that. A family-friendly Halloween film that is magically spooky and not too cheesy.
The Curse of Bridge Hollow was directed by Jeff Wadlow (read our interview – HERE) with a screenplay by Todd Berger and Robert Rugan from the story by Berger and John R. Morey. It was produced by Marlon Wayans, Rick Alvarez, and Nathan Reiman. The film has a great cast including Marlon Wayans, Priah Ferguson, Kelly Rowland, Rob Riggle, John Michael Higgins, Nia Vardalos, Lauren Lapkus, Holly J. Barrett, Myles Vincent Perez, Abi Monterey, and Helen Slayton-Hughes.
Synopsis for The Curse of Bridge Hollow
A father (Marlon Wayans) and his teenage daughter (Priah Ferguson) are forced to team up and save their town after an ancient and mischievous spirit causes Halloween decorations to come to life and wreak havoc.
This film felt like a mix of Hocus Pocus and Goosebumps. A family moves to a town and accidently unleashes an ancient and wicked spirit that wreaks havoc among the community. The father and daughter, who rarely see eye to eye, have to team up together to save everyone. There is also a group of  "outsider" kids (with a Monster Squad vibe) who help them along the way. The Curse of Bridge Hollow is wholesome, cute, funny, with the perfect amount of spookiness.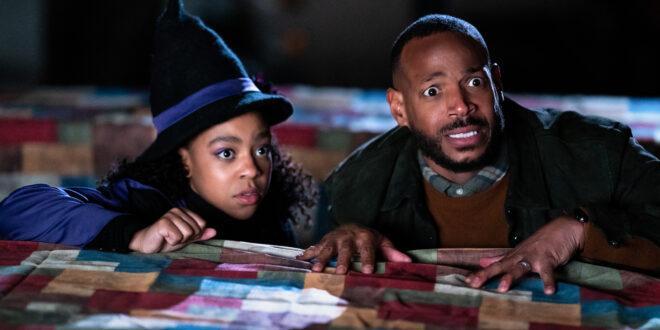 As someone who is in their-mid 30s, I truly appreciated seeing Marlon Wayans and Kelly Rowland leading a Halloween film. Unfortunately we don't see Kelly as much as we see Marlon, but she has some funny moments throughout the film including scenes with her vegan desserts. The focus on this film is more of Marlon's characters relationship with his daughter (who is played by Priah Ferguson). They had great chemistry and I loved how their father-daughter bond grows throughout the film as they have to learn to trust one another.
As you can imagine, there's some great special effects throughout the film. From giant spiders, pumpkin heads, animatronic zombies, killer clowns and much more. It also has a great spooky and fun soundtrack that helps set the tone and atmosphere throughout the film.
The Curse of Bridge Hollow will definitely be a film that I add to my Halloween movie watchlist every year and I'm pretty sure others will feel the same. The film will drop on Netflix beginning October 14, be sure to check it out!
#TheCurse
@netflix
@netflixfamily
@strongblacklead