It's never too early to start indulging in Christmas horror movies, right? I was asked to review this upcoming slasher film, Mother Krampus 2: Slay Ride, and it's definitely put me in the holiday spirit.
Did this one stand out above all the other bloody slay rides before it? Find out!
This bloody slasher film was directed by Eddie Lengyel as well as co-written by himself, Roger Conners, and Kris Smith. Conners and Smith also star in the film, along with Katelynn E. Newberry, Tiffani Hilton, Robbie Barnes, Rachel Anderson, and more.
Official Synopsis for Mother Krampus 2: Slay Ride:
It's Christmas time in Cleveland, Ohio and four young ladies are on the verge of completing their mandatory thirty days of community service. With only one night to go, they are required to make a series of in-home visits to the older and less fortunate.

Upon arriving at their final stop for the night, they become introduced to a pleasant older woman who graciously welcomes them into her home for the evening. However, as darkness falls and the cold settles in, they begin to realize that there is far more to their seemingly innocent host than meets the eye.
You might say that I'm a connoisseur of holiday horror films – especially Christmas ones – so I've seen a variety of them and have certain expectations. I'm thrilled to say that Mother Krampus 2: Slay Ride succeeded them all and more. Unlike many of the holiday stories out there, it has a unique plot, eccentric characters, and a fun murder mystery that doesn't disappoint.
The plot begins with four ladies who are wrapping up their mandatory community service on Christmas Eve. Each girl is unique, full of spirit, and ready to let loose after months of restrictions. They decide to go against the rules, which puts them in a deadly situation that doesn't end well for anyone. I loved that storyline. It was fun, refreshing, and somewhat realistic as I've worked in human services for a long time now, and I could see something like this happening (well, maybe not a killer lady Krampus – but still).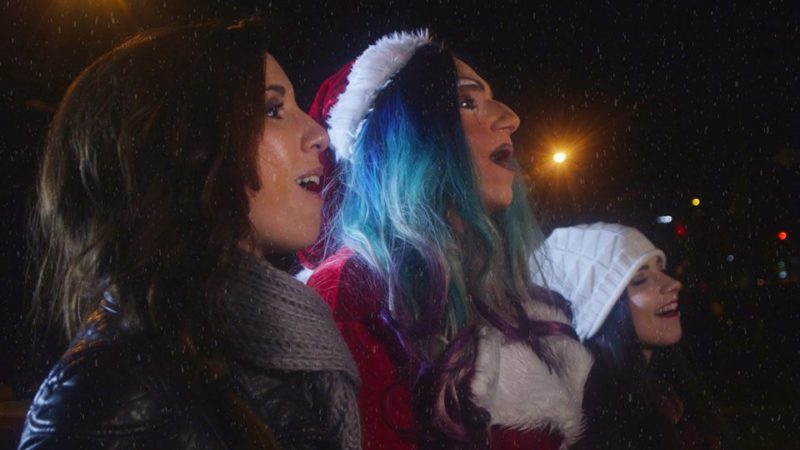 Some of the characters were the kind that you can't wait to die. Selfish, obnoxious, and just asking to be killed in a horrible way. However, Kris Smith played her character perfectly and was creepy yet welcoming. I also really loved Lady Athena Slay played by Roger Conners. So much personality and attitude! I just couldn't help but love that character; one you often don't see in films like this.
Not all of the kills are cheerful and delightful, but there's a select few that really stood out and will warm any ghoul's heart. The kills aren't creative by any means. They're more straight to the point, similar to Michael Myers' methods. This lady Krampus doesn't have time to mess around as this is a busy time for her, ya know, so wielding an ax will have to do.
Final Thoughts on Mother Krampus 2: Slay Ride:
If you love Christmas themed horror movies, demented killers on the loose, and a blood-splattered yuletide massacre…. Mother Krampus 2: Slay Ride is for you. It will be coming out later this year, so be sure to keep your eye out for it as it will definitely be one that you want to add to your holiday list as you cuddle up with a blanket and sip on some hot cocoa!