A sub-genre we don't see often within the horror genre is westerns. Add in some creatures and you can either have a really cool film or a really cringe film. Night of the Tommyknockers (2022) blends all three of these elements, which of course intrigued me. A western set in the 1870s that brings the western folklore of Tommyknockers creatures to the screen. Which honestly, I haven't seen anything about this lore in any films. This could be fun watch or this could be a painful watch. So which one was it for me? Read on for my spoiler free review!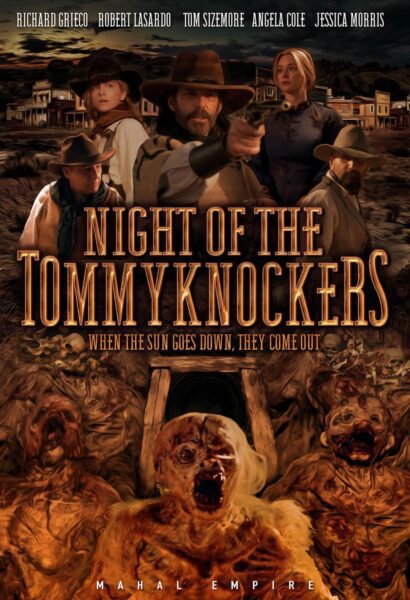 Synopsis:
When miners blast for gold in the 1870's, they accidentally release ancient creatures known as Tommyknockers. The Town of Deer Creek, Nevada is soon under siege with only a handful of survivors held up in the local saloon.
Night of the Tommyknockers (2022) is the latest film from Mahal Empire (Death Count 2022 -read our review here, Bloodthirst 2021-read our review here). The film stars Richard Grieco (Television's 21 Jump Street (1988-89) and Booker (1989-90), Tom Sizemore (The Relic (1997), Black Hawk Down (2001), Robert LaSardo (Death Count (2022), Jessica Morris (Television's Party of Five (2020) and Angela Cole (Time Pirates 2022). Story by Michael and Sonny Mahal and written by Rolfe Kanefsky and Adrian Milnes. Directed by Michael Su.
My Thoughts:
Night of the Tommyknockers, I'm happy to say, is a fun film! It was a nice surprise. I wasn't sure what to expect, as the horror western genre doesn't really have a lot of films. The costume and make up for the tommyknockers are good. The fight scenes were also fun, throwing back some fighting styles of the old west. The set designs are impeccable. It truly felt like the wild west. What is obvious is the developed characters and the meshing of the cast and director. You can't really fake that kind of chemistry and it adds to the flow of the film and the final product. What I also loved is the way that this film took a risk with a topic that is not the norm in horror and really made it it's own. I believe that genre fans will have a lot to enjoy here and I also believe a newbie to the genre will enjoy it as well.
Final Thoughts:
Night of the Tommyknockers is a treat for genre fans and new fans alike. This film cemented for me that when I see Mahal Empire behind a film, I'm going to give it a watch, without doubt. While the plot is not anything new, it does bring a lot of fresh breath to a sub-genre that we really don't see in horror films. The cast meshes together wonderfully with a fast-paced plot with plenty of creatures and wild west ambience. You feel you are in the wild west. The film doesn't take itself too seriously. It is a lot of fun, so if you are into either creature features and/or westerns this one is for you. Get your popcorn ready and check this one out. Night of the Tommyknockers is currently available to watch on all digital platforms.