Sci-fi has etched its name into the horror genre for years with titles such as The Blob (1988), Alien (1979) and The Thing (1982). Life, the latest sci-fi horror/thriller to hit the big screen, encompasses elements of all three films as well as the stunning graphic-based imagery depicted in Gravity (2013) starring Sandra Bullock. With familiar nods to classics from the past, Life has a suspense driven plot featuring a unique story that stands on its own, but will never join its inspirations as a classic.
When a team of scientists recovers soil samples from Mars aboard their Earth-orbiting international space station, they discover a cellular life form that they isolate and observe. First appearing as a harmless one-cell organism that the scientists nickname Calvin, the team is stunned when the extraterrestrial begins to grow at an alarming rate. As lead scientist, Hugh Derry (Ariyon Bakare), continues his study, it almost appears as though Calvin is studying the scientists. The tables are completely turned when Calvin escapes with a need to feed, growing in size after every victim.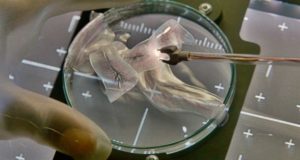 What may draw many people to see Life are powerhouse names Ryan Reynolds (Deadpool, The Voices) as Rory Adams and Jake Gyllenhaal (Donnie Darko, Prisoners) as David Jordan. Although these two guys have dabbled in horror and suspense throughout their careers, this film is unique to both actors. With Reynolds adding some light humor with Deadpool-type one-liners and jokes and Gyllenhaal being serious and somber, the two compliment each other nicely. However, the script seemed to fall short on giving this duo much to work with. Though there were no performances that detracted from the film, the characters seemed to lack a certain level of depth to no fault of the actors.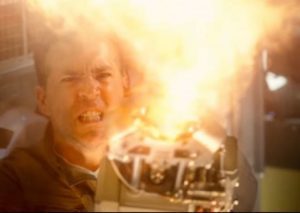 Though the film is slow to gain momentum, focusing on imagery and stumbling through shallow character development, the plot picks up when the Blob-esque alien sends the astronaut crew into panic mode. Fighting for their survival, their original mission changes from observing an important scientific discovery to preventing a deadly Martian from reaching Earth by any means necessary. Though some hardcore critics have bashed the ending, accusing it of falling flat on its face, I found it to be a haunting, open-ended nod to classic monster films of the '70s and '80s.
With nostalgic horror sci-fi elements paired with growing suspense and the graphic imagery of space, Life has earned a 7/10 rating on IMDb and 66% on Rotten Tomatoes. Directed by Daniel Espanosa (Safe House, Child 44), this could be a milestone highlight on the filmmaker's short list of accomplishments. While it falls short in reaching for the stars and won't be considered a classic any time soon, Life is a fun and suspenseful film that will keep you on the edge of your seat.