There is nothing more fun than a great horror comedy, and Director Erwan Marinopoulos has a hit in the incredible Kill Ben Lyk. It stars Martyn Ford (Kingsman: The Golden Circle 2017), Simone Ashley (Pokemon Detective Pikachu 2019), Eugene Simon (Game of Thrones TV series), Ashley Thomas (Black Mirror TV series), and Gretchen Egolf (The Talented Mr. Ripley 1999 – read our retro review here).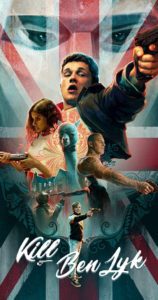 Synopsis:
Within 24 hours, three people have been murdered in London, all by the name of Ben Lyk. Scotland Yard decides to gather together all the other Ben Lyks located in London until they can figure out who's after them and why.
It all starts out with "our" Ben Lyk (an adorable Eugene Simon) who runs an obnoxious vlog where he films his mundane life. For some reason, every episode ends with him getting punched in the face. But hey, everyone needs a shtick. One day, he reads about two other Ben Lyks in London being murdered, so he freaks out and Skypes with another man named Ben Lyk. When that one is killed on screen in front of him, the cops arrive to take him into custody along with seven other Ben Lyks.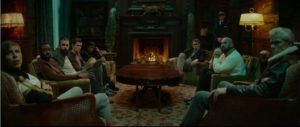 Let me just say that I loved Kill Ben Lyk. The dialogue between the group of Ben Lyks is so much fun. They are a bumbling group of misfits who have obviously never had any experience with guns, murderers, or an alarming, rising body count. None of them are what you would call really likable, but the plot – constantly switching back and forth between the Bens, the cops, and assassins – is so brisk it ensures that you are never bored.
Our Ben teams up with the only female Ben Lyk when things turn bad and the bodies start piling up. Eugene Simon, who did such great work in Game of Thrones, unleashes some amazing comedic work here. As much of a douchebag as you may think Our Ben can be, he is just irresistible anyway. The entire cast does great work though, with a special shoutout to Dimitri Leonidas as Roberto, Our Ben's sweet but clueless stoner friend.
There is definitely enough blood here to keep any horror fan interested, along with cracking dialogue and an absolutely whip smart plot. Kill Ben Lyk is a must see film.