Most horror fanatics would agree that the '80s and '90s were the heyday of horror. It was an era that pushed the limits and created nearly every subgenre we know and love today. Driven by his love for the genre, Jimmy Lee Combs explored the roots of some of these frights with his first love letter to the anthology horror subgenre, Terror Tales (read our review here). Recently, I had the pleasure of interviewing Jimmy about his passion project, which starred many cult names in horror that we all recognize and love!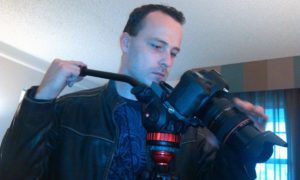 PopHorror: Hi, Jimmy! Thank you for taking the time to speak with me. Have you always been a fan of horror?
Jimmy Lee Combs: Absolutely! Ever since I was a little kid, the horror genre has always been my favorite. Since I'm an '80s baby, I grew up on horror films of the late '80s and '90s. As I've gotten older, I've taken that love for the genre that I grew up with and went further back to watch films like the Universal Monsters horror flicks and horror of the '70s. My favorite decade for horror is, hands down, the '80s.
This is the decade that saw all of the SFX masters really emerge and make a name for themselves, the greats like Tom Savini, Greg Nicotero with KNB Effects, Rick Baker, Rob Bottin and many more. It was an explosive decade for horror with the emergence of VHS and video rental stores. The market was prime for horror, and all the greatest franchises were born in this decade. It was a defining decade for horror. For years to come, filmmakers like me aspire to make horror films with the practical effects approaches of the '80s.
PopHorror: I agree that the '80s were the heyday of horror, spawning so much originality. What made you decide to pursue filmmaking as a career, and how did you get your start?
Jimmy Lee Combs: Great question! Like most filmmakers, my love for cinema started at a very young age. I always loved telling stories. So, when I was 17, it really started bubbling in me to start telling my own stories through film. I also developed a passion for acting, so I began taking acting and screenwriting classes. When an L.A. based production company came to Colorado to film a movie starring Alan Thicke and Lindsay Wagner, I got onboard as an extra, and I learned firsthand what "hurry up and wait" meant. (laughs)
During all this waiting around, I was absorbing the makings of a movie like a sponge, and I knew then and there that I also wanted to make movies rather than just writing and acting in them. So, I started helping behind the camera on projects that I would act in, and I gained a lot of experience! Eventually, I felt ready to start my own production company called Heart and Fire Productions in 2007. And the rest, as they say, is history.
PopHorror: That's great that you had the opportunity to explore your passion so early! Has horror always been the direction you wanted to take with your filmmaking career?
Jimmy Lee Combs: I knew it would be inevitable that I would eventually make horror films. But surprisingly, I started out making a lot of drama and romance short films before putting more of an emphasis on making horror films. This definitely goes hand in hand with my motto at Heart and Fire Productions, which has always been to make a diverse genre of films.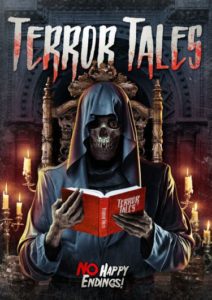 PopHorror: Diversity is never a bad thing! Speaking of diversity, I've seen Terror Tales, which has a great range of horror! Is this your first full feature in the genre? What made you decide to take the anthology direction with this film?
Jimmy Lee Combs: This is my first feature in the horror anthology subgenre. However, my first feature was a horror-comedy called Hans Crippleton: Talk to the Hans.
Horror anthologies are my first and foremost love for the genre. I thought, "If I'm going to make horror films, then at some point I have to do a horror anthology and contribute to the subgenre that is near and dear to me." As it turned out, I was beginning production on a horror/comedy web series, but I really wanted to crank out another feature film at the same time. So, it was fairly manageable to film the web series while shooting Terror Tales, segment by segment. Plus, I've always been fascinated with being able to tell multiple stories within a feature film. It adds diversity to a film that's not found in a conventional feature.
PopHorror: Anthologies give a lot of room for creativity, for sure! There seemed to be quite a bit of '80s horror inspiration in Terror Tales. Would you say this was intentional? Was there anything else in particular that served as inspiration for the film?
Jimmy Lee Combs: Absolutely! It was totally the intention, especially with "Radical Video"! "Radical Video" had a Giallo feel to it as well, complete with a masked villain and black glove POV shots. It was also partly inspired by Clint Eastwood's Dirty Harry and the pop culture show Sledge Hammer, starring David Rasche, who carried a bigass magnum like the anti-hero Detective Stevens in "Radical Video." The eagle-eyed viewer will be handsomely rewarded with all the nods and winks to old school horror.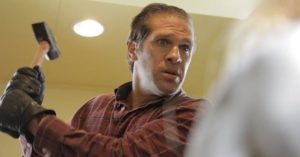 The 1972 Tales from the Crypt from Amicus/Hammer was a huge influence on Terror Tales as well, especially in the formula of the film. Creepshow had a massive influence as well. You'll notice a very old school approach to how we made Terror Tales, and it was very intentional. I want it to feel like our film could have came straight out of the '80s, and with all the positive praise that has been coming in for the film, a lot of reviewers have totally picked up on the nostalgic vibe, which makes us incredibly proud.
PopHorror: I saw quite of that in the film, myself! You had several cult horror stars in your film, including Lynn Lowry, Laurene Landon, Ari Lehman, Felissa Rose and Yan Birch. What was it like working with a cast comprised of such known names in horror?
Jimmy Lee Combs: It's a fantastic experience to have on-set iconic horror actors of this caliber and stature. I had several actors come to me saying how inspiring it was to work with veteran actors and how much they learned from them. Also, when you have actors who have worked with such iconic directors such as Wes Craven, they bring with them all that amazing experience they learned from the horror masters. This turned in some incredible performances in Terror Tales that I think is going to surprise the audience when they see the caliber of acting in the film. Everyone gave it their 110% best, and it shows. At the end of the day, as a director, there is nothing more you can ask for.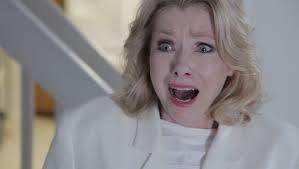 It's interesting because, originally, the film was going to just feature Lynn Lowry. But as I thought about it and was writing the stories, it hit me that it would be a fantastic idea to showcase more of horror's best in each segment… sort of an Expendables of horror, if you will. That got the ball rolling to cast more iconic horror actors in each segment. It was incredibly important for me to not take that lightly. I wanted to give the actors as meaty of a role as possible that serves a purpose to the story, rather than just having bragging rights saying I have so-and-so actor in the film.
Of all the roles, I would have to say that the Susan McKay character was written from the ground up specifically for Lynn Lowry. I had seen a performance of hers in a horror story she performed called The Whole Town's Sleeping. In fact, you can visit the 11 minute performance here, which convinced me that Lynn could play an emotionally distressed character with range and vibrancy. So, it made writing the Susan character incredibly easy knowing that Lynn could pull it off with an emotionally-charged performance.
As a director, it was very fulfilling to direct such talent in demanding roles like Lynn Lowry, and of course, Laurene Landon's unsettling and psychotic role as Miss Tate in the "Radical Video" segment. To be able to direct performances like those while allowing the actor to bring their experience to the role and to have worked with actors of this caliber from the horror world is an honor!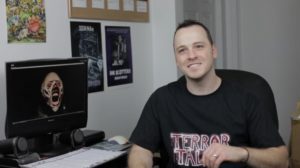 PopHorror: That sounds like an incredible experience! What was your favorite part of filming Terror Tales?
Jimmy Lee Combs: So many favorite parts of filming Terror Tales… I would say my favorite is divided between making a film that I'm contributing to my favorite subgenre, which is horror anthologies, and also the statement I was able to make with "Radical Video." As a diehard fan of mom and pop video stores that so many of us grew up with, it was so important for that I was able to dedicate the segment as a love letter to the '80s, the era of horror films and what is hands down, in my eyes, the best decade of all time. Aside from all that, it was simply working with all the incredible cast and crew that was a favorite, memorable experience.
PopHorror: What was the biggest challenge of filming this production?
Jimmy Lee Combs: Honestly, the biggest challenge came in post-production, because that is where I felt the most pressure to get the film finished and released. I feel that, with more time, I could have made a leaner cut of the film. But as it is, I'm very proud of the film and all the praise it has been receiving from reviewers.
PopHorror: Do you have any other upcoming projects you would like to discuss?
Jimmy Lee Combs: I do, actually. It's a horror western that I'm billing as John Woo meets Sergio Leone meets the horror genre. I have an incredibly ambitious vision for the film. Spirit Reckoning is going to be a high octane adrenaline rush in the horror western genre that can be best described as having the larger-than-life, bullets flying action scenes of a John Woo film, the rich and vengeful storytelling of a Sergio Leone spaghetti western epic, and the extreme blood and gore of the horror genre. Back that with heart and characters that you're invested in from start to finish, and you've got the makings for one hell of a fun film.
With an obvious passion for horror and a very intriguing idea to combine two genres not often seen, I'm looking forward to seeing this intriguing project come to fruition! Hopefully we will see development soon. Stay tuned to PopHorror for this and more!