"It's got a death curse!" Nope, wrong franchise, but the idea is still glorious and much beloved. Just when you thought it was safe to go back to camp, along comes FINAL SUMMER, a new indie slasher available NOW on demand and digital platforms. Early reviews from its festival run have been great, so you'll want to check it out!
Watch the trailer below, then read on for the details!
Final Summer Synopsis
It is late summer 1991 and the final day of summer camp at Camp Silverlake when tragedy strikes. That evening, as the counselors attempt to shut down the camp for the season, someone is waiting in the darkness to seek revenge on the unsuspecting camp. Who is the masked killer? Is it the camp urban legend? Or is it something more sinister? Not everything is what it seems at Camp Silverlake."
John Isberg wrote and directed the film. It stars Thom Mathews (Friday the 13th Part 6: Jason Lives, Return of the Living Dead) and Bishop Stevens (A24's Slice, Dark Sky's Girl on the Third Floor, Shudder Original Revealer") and features music by Jeff Schroeder of The Smashing Pumpkins.
Check out this killer (*ahem*) poster art!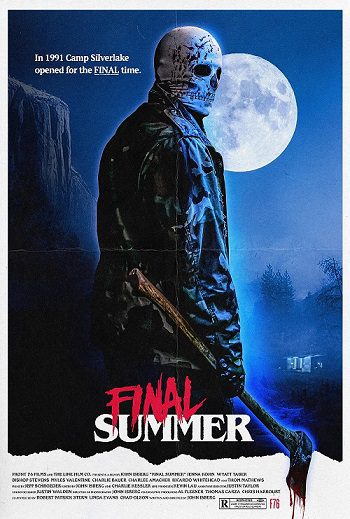 Rent or own Final Summer now on Vudu, Amazon Prime Video, AppleTV, and more!
We can't wait to check this out! Will you be joining us at Camp Silverlake? Tell us in the comments!