There is a scary, unthinkable underground world that exists where human life is simply a commodity to be bought and sold. In Catherine Fordham's new film, Kaya, a young woman is searching for her missing sister who has been kidnapped and forced into child prostitution. The film stars Shakira Barrera (GLOW TV series), Kyle Dean Bolt (Astro 2018 – read our review here), and Gabriella Surodjawan (Stargirl 2020).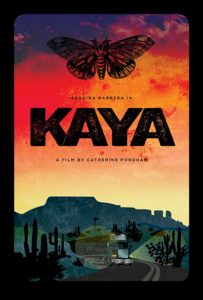 Synopsis:
Kaya is the story of a young woman who discovers a juvenile victim of sex trafficking in a seedy motel room and takes the girl's place to catch the men who abducted her teenage sister.
Kaya (Barrera) has been following the trail of her kidnapped 13 year-old sister, Luna, and has tracked her to a ring of sex traffickers operating out of a seedy hotel. She takes the place of a young girl, Eva (Surodjawan), ties up the john, and then waits to see who will come to pick Eve up, wanting information.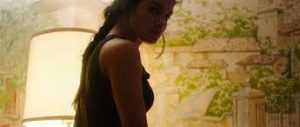 As Kaya, Barrera is an absolute powerhouse. She's focused, fierce, and ferocious when she needs to be. It's a terrific performance. All the other actors felt very authentic in this gritty film. I love the filmmakers' use of cartoons and music to establish tone in an effective and unsettling way. This was one of those shorts that I wanted to go on longer. I genuinely wanted to know more about Kaya, to follow her to the conclusion of her search.
Despite the difficult subject matter, this is well done film that should be seen.