On paper. Christophe Gans' (Silent Hill) film, Brotherhood of the Wolf, sounds like a disaster. Certainly it's the most difficult film I have found to explain to anyone. "It's the best French conspiracy, werewolf, horror, romantic, political, martial arts. swashbuckling movie ever. Also, it's loosely based on true incidents." But somehow, damn it if it all just works, even 20 years later! Let's take a look back at this unique film which was released in the US on January 25, 2002.
Synopsis:
In a rural province of France, a mysterious creature is laying waste to the countryside, savagely killing scores of women and children. Unseen, possessed of enormous strength and a human intelligence, the beast has eluded capture for years. King Louis sends in a renowned scientist and his Iroquois blood brother, an unconventional team whose combined methods and capabilities may bring the beast down. But the true nature of the beast is not what anyone could have anticipated.
A lot of great action films have come out in the last 20 years, and Brotherhood of the Wolf is an iconic one. Two men appear on horseback from out of the pounding rain, clad in long oilskin coats, collars buttoned up to the face, and tricorn hats. One rider dismounts, bow staff in hand, and approaches a group of men that are beating a father and daughter. The rider, Mark Dacascos (John Wick: Chapter 3 – Parabellum), easily—and with style—thrashes the entire group, finishing with a flourish of his staff. It's still an awe inspiring action scene to this day.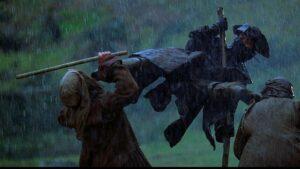 It helps that Brotherhood of the Wolf is impeccably cast and acted. In addition to the dynamic Dacascos, it also features Samuel Le Bihan (Frontier(s)) as the naturalist/adventurer de Fronsac. Le Behan shines in this role, capturing both the raw physicality needed along with a dose of swaggering humor. Vincent Cassel (Black Swan) is given, as always, an oddball role as a French nobleman who is *ahem* weirdly attached to his sister. By far though, it's Monica Bellucci (Irreversible) who steals the show as the mysterious and dangerous prostitute, Sylvia.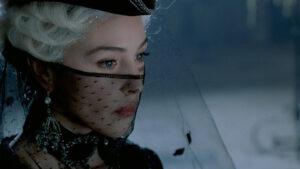 I'm a sucker for a film with great costumes, and Brotherhood of the Wolf's entire wardrobe still stands as one of my favorites in film history. The long highwayman coats that Le Behan and Dascascos don from the beginning set the dark tone of danger that looms over the film. This look is carried through by Bellucci's wardrobe of sheer masks, and slick, dangerous looking corsets (and watch out for that fan of hers!). The one spot of light comes from de Fronsac's love interest, Marianne (a glowing Emilie Dequenne: Rosetta). She is radiant in her rose colored dresses.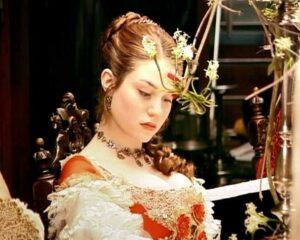 No matter your pleasure, Brotherhood of the Wolf is happy to serve you. Romance, check. Sex, check. Costumes, action, gore? Step right up! So if it's been a while since you've seen this one, you're in luck. It was released on collector's edition Blu-Ray in 2021 and is currently available on Amazon Prime! Now, what are you waiting for? Kick back and enjoy the genre-busting ride.