I absolutely adore short stories and short films. So when opportunities arise to review, I take them. Donovan Smith is a writer here at PopHorror and during the pandemic, he wrote, directed, and starred in his short film titled Grimoire.
When he told me about it and I watched the trailer, I was intrigued. This film is currently making the rounds in festivals and winning awards, proving to be an audience favorite. What did I think of Grimoire? Read on to find out!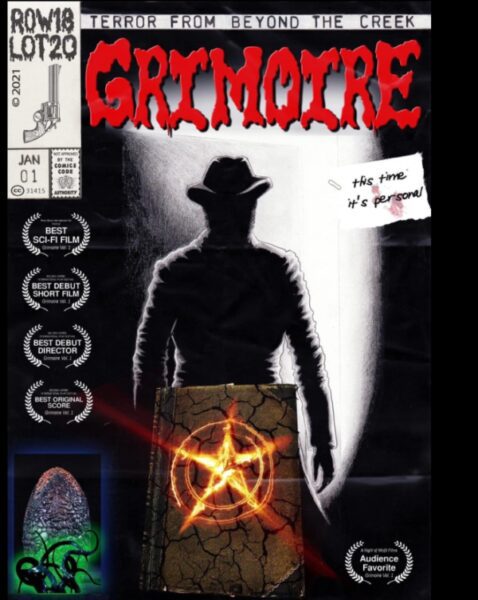 Synopsis:
A broken lone gunslinger hunts the creature responsible for the death of his wife and children with the help of an ancient magical Grimoire.
My Thoughts:
Prior to me watching the film, Donovan sent a warning:
Please take into consideration that it's our first ever short film made. It was during the pandemic, two-person crew, and a guy who had never acted before.
I really didn't think anything of it and watched the film. I can't believe any part of the above "warning" is true. It is so well made, and it definitely doesn't seem like a "debut film." But it is Donovan's debut film, and I can see why it is winning awards and an audience favorite.
The synopsis describes the film perfectly. It appears to be a simple revenge story with an addition of the ancient magical grimoire to help with the hunt for the creature. A grimoire is an ancient book of spells. The book and artwork are amazing. There is no dialogue, instead it is character driven. There are narrations to help move the story along, but the story relies on actions of the main character, the gunslinger, played wonderfully by Joe Gurmo.
The film really is paced well – I didn't feel it was rushed nor did I feel it was dragging. The scenes are also shot well and there's great use of practical effects. What also works for the film, is the tension and build up that was created for the creature, played by Donovan. It made me jump each time it appeared. I knew what the creature looked like, but it managed to get me each time. It legit scared me in a good way.
The film's score by the late talented composer, Miriam Mayer (read our tribute here), really completes the film.
Final Thoughts:
Grimoire is an awesome debut, and I am looking forward to more. You can tell the hard work of everyone involved in this project. It all came together and really shined in the final product.