Dead Envy is a film we at PopHorror have been looking forward to checking out. How can we not be, when the film has been advertised as Rock n' Roll HORROR! A Lynchian style thriller about MUSIC and HAIR! That description, along with the poster and trailer, had me intrigued from the get go. Does the film live up to the advertisement? Read on to find out!
Film Synopsis:
Aging Rock artist David Tangier's sense of identity is all but destroyed as he works cutting hair to provide a comfortable life for himself and his wife. His sound and age bind him to the Rock of the 2000s, where his band, Katatonic Spin, once ruled the scene. David cannot tolerate that his entire existence has fallen prey to the persona of "the has been."

By taking one last long shot at maintaining his integrity, David sets out to organize the follow-up album that he never had the chance to make. When Javy Bates, a mysterious young musical talent shows up for a job at David's salon, this rocker thinks he has found a solution to his alienation. Initially guarded, Javy soon opens up… as he has an agenda of his own.
Film Details:
Director
Harley Di Nardo
Writers
Harley Di Nardo, Stacy Hullah
Cast
Harley Di Nardo  as David Tangiers
Adam Reeser as Javy Bates
Samantha Smart as Cecily Tangiers
Carla Wynn as Dawn
My Thoughts:
Dead Envy is Harley Di Nardo's first film, and I believe it is a solid flick. There are some things I believe could be expanded upon to make it better, which I will get into in the later part of this article. However, I did enjoy this film. I will say this: do not go into Dead Envy with preconceived notions. Is the story an all too familiar one about someone going through crazy efforts t0 get close to the person they are obsessed with? Yes. Remember though, all ideas are based off of other ideas, and are made into the creator's own visions. That is exactly how I would describe the efforts in this film.
I loved the music and the musical presence here. There were some great tunes that made the film interesting. The performances are spot on as well. Adam Reeser is just plain creepy as the helpful but mysterious stranger, Javy Bates. Harley Di Nardo nails the whole aging rocker character to a T. Samantha Smart is wonderful as the smart but sometimes naïve Cecily Tangiers. Carla Wynn is fabulous as Dawn, the silent but not so quiet partner of the hair salon.
The plot itself is simple. An aging rockstar David Tangiers, once hot in the early '00s, finds himself now playing at local bars and trying to get back to his glory days. He and his wife own a hair salon to pay the bills. One night, he plays in a local bar and a helpful stranger named Javy Bates just happens to be at the right place at the right time to save David from a knife fight. David buys Javy a beer, and that marks the beginning of their newfound friendship.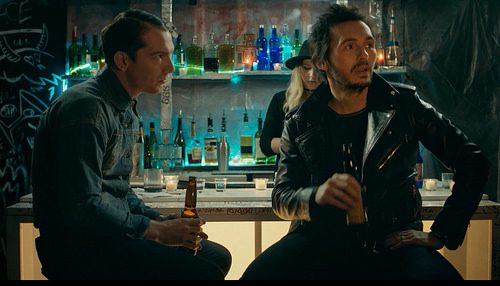 This is where we, the audience, begin to see that Javy Bates is not who he appears to be. He has on oddness about him. To repay Javy for saving him, David offers him a job at the salon, since conveniently, Javy is a hairdresser as well. From there, a series of events lead up to the truth about Javy. Dawn tries to warn David that something is off about Javy, but he brushes it off. Later on, they both discover the truth about Javy. Will it be too late? You will have to watch to find out.
As I stated earlier, Dead Envy is solid. The characters and music made it both watchable and entertaining. My biggest issue with the film is that it needed to be longer and more developed. I really enjoyed Dawn's character and the dynamic she brought to the film, and I would have loved to see more of her in it. I would have also liked to see more of Javy's disturbed ways presented and the horrible things he does. Like does he have a closet of dead bodies or something?
Final Thoughts:
Dead Envy is definitely is worth a watch. It is a thriller with a decent storyline, great music and strong characters. The film is a little short, but entertaining nonetheless. Be sure to check it out. It's currently available on Amazon.