Sam Levinson's Assassination Nation is a film that premiered in January of 2018 at the Sundance Film Festival, and it turned out to be a festival hit! Neon along with AGBO and Refinery 29 is bringing this extreme black comedy thriller to theaters on September 21st. Boasted as Purge meets Heathers, this film looks to be a splatter fest! Let's take a look at the posters and trailer.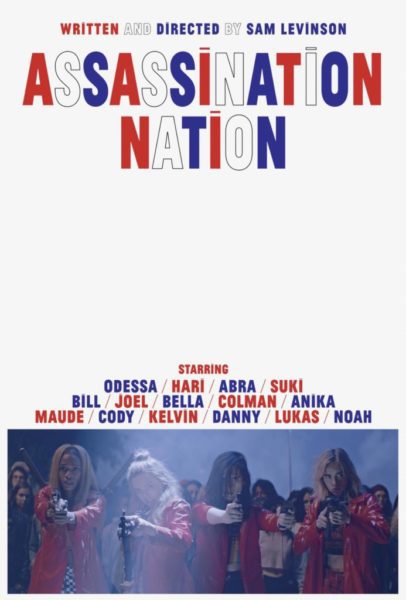 Assassination Nation Synopsis:
This is a thousand percent a true story about how the quiet, all-American town of Salem absolutely lost its mind. High school senior Lily and her three best friends live in a haze of texts, posts, selfies, and chats — just like the rest of the world. Their small town gets turned upside down when an anonymous hacker starts to reveal personal messages and secrets of thousands of people. As anger erupts into full-blown violence, the four girls soon find themselves in a fight for their lives against an armed mob.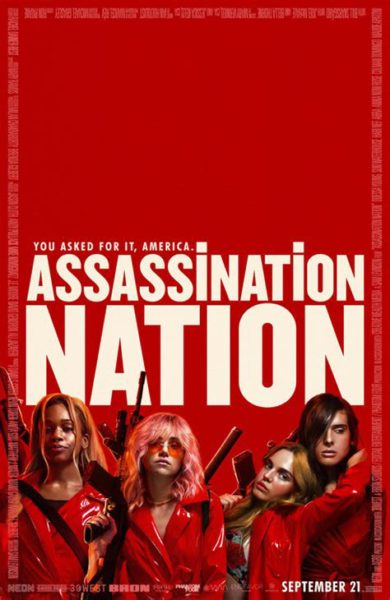 The Assassination Nation Red Band Trailer:
Assassination Nation is written and directed by Sam Levinson (The Wizard of Lies). The film stars Odessa Young (The Daughter), Hari Nef (Amazon Prime's Transparent), Suki Waterhouse (Pride and Prejudice and Zombies), newcomer Abra, Colman Domingo (AMC's Fear the Walking Dead), Bill Skarsgård (IT 2017), Joel McHale (The X-Files TV series), Bella Thorne (Scream: The TV Series) and Maude Apatow (This is 40).
This film looks to be dark, bloody and deliciously evil. What do you think? Will you be checking Assassination Nation out? Comment below and let us know! Stay tuned to PopHorror for all of your news, reviews, interviews and much more!