It's that spooky time of year when all the boils and ghouls come out to play. It's also the time when Hocus Pocus is played on repeat. Because who can ever get enough of the Sanderson sisters? Not me!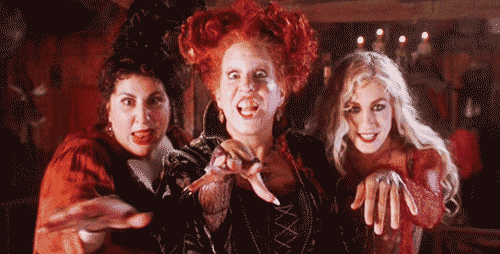 If you didn't know already, 2018 marks the 25th anniversary of this beloved classic! I've seen many awesome ways people are celebrating it including special events, special edition Blu-rays and more. However, what really caught my eye was a unique pregnancy announcement.
Adorable couple, BJ and Sammy Pierce, got together with family and friends for an epic Hocus Pocus photo shoot to announce their pregnancy on October 1.
"Winnie, I smell… a child."
Since I'm such a huge fan of Hocus Pocus and this amazing shoot, I caught up with BJ to ask him about his inspiration for the shoot and this is what he had to say:
"As for the inspiration. I always like to be different. Make everything a story to tell. My proposal to my wife, Sammy, took 9 months to plan. Our wedding was at a concert venue. I also wanted us to have a wedding photo of us with proton packs on, fighting stay puff as he broke through the giant window we got married in front of. Stuff like that. I love making everyone around me happy and they know I'm artistic and always want to see what I'll do next.

So, when it came to the announcement I saw that some people really went overboard and had fun with it and I wanted to do something other than sit in a field with an ultrasound photo. I wanted to do something fun. So the quote from the movie Hocus Pocus popped into my head one day – "Winnie I smell a child/children."

I looked at my wife and told her my idea. She looked at me like I had 6 heads but she just went with the idea. So we got one of my best friends (Mary), Sammy's best friend (Sarah), and my sister (Winnie and photographer) all into the idea. So, I started fabricating the signs, buying costumes, and fabricating smoke diversion plates so it would come out more even etc. And the rest was history. We had my dad take the photos from a tripod and one of my best friends did the smoke.
I also asked him, if he had plans for more when it came to the gender reveal party. He stated:
"As for the gender reveal. It's November 3 and the Sanderson sister will return!"
We love this announcement so much and hope to see more creativeness from this family in the future. Check out more of the pictures from the photo shoot down below and be sure to share with your friends! Also to make sure to follow them:  BJ – @the_sofa_artist and Lindsey @lindsey_fotos!