Coming soon to theaters, digital, and On Demand from Saban Films and director Herbert James Winterstern (Siberia – TV Series) is a new adventure film: Supercell. The film stars Skeet Ulrich (Scream), Anne Heche (I Know What You Did Last Summer), and Daniel Diemer (The Half of It).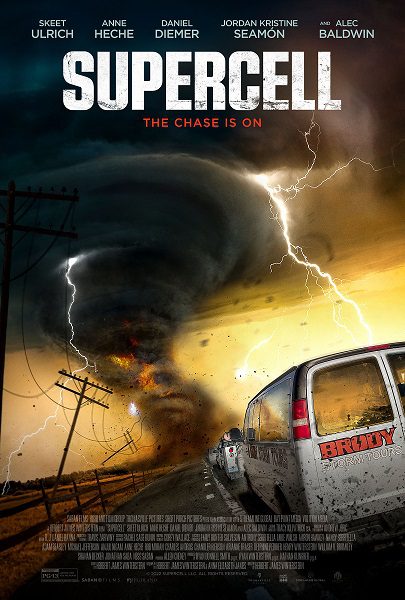 Supercell (2023) Synopsis
Baseball-size hail, violent winds, and churning tornadoes make supercells deadly, and when William Brody was a boy, his father – a legendary storm-chaser – was killed by one. Now, the family business belongs to Zane Rogers (Alec Baldwin), a reckless tour operator who sees dollar signs where others see storm clouds. When his destiny arrives in the form of one of the most powerful storms on record, William leaves his mom (Anne Heche) and home behind to team up with his father's ex-partner, Roy Cameron (Skeet Ulrich), barely surviving a tornado yet determined to chase one of nature's most terrifying creations: the bear's cage.
Check out the trailer below:
Supercell will be available March 17, 2023. Check it out!
In the meantime, you can read our interview with Skeet Ulrich here!