Coming Soon to Blu-ray and Digital Steelbook is a film written and directed by Stephen King: Maximum Overdrive. The film stars Emilio Estevez (The Breakfast Club), Pat Hingle (Hang 'Em High), and Laura Harrington (Paulie).
Maximum Overdrive Synopsis
Get ready for the ultimate battle of man vs. bloodthirsty machine in this terrifying Stephen King classic! For three horrifying days, the Earth passes through the tail of a mysterious comet. The skies glow an eerie green as humanity waits to see what the fallout will be. But what they imagine is nothing like the nightmare they find — the comet's magnetic fields cause all the machines on Earth to suddenly come to life and terrorize their human creators in a horrific killing spree. Now, it's up to a small group of people trapped in a desolate truck stop to defeat the killer machines — or be killed by them!
SPECIAL FEATURES
Audio Commentary with Writer Tony Magistrale, Author of Hollywood's Stephen King
Audio Commentary by Actor & Comedian Jonah Ray and Blumhouse Film Executive Ryan Turek
"Truck Stop Tales"— An Interview with Producer Martha De Laurentiis"Rage Against the Machines"— An Interview with Actress Laura Harrington
"Honeymoon Horrors"— Interviews with Actor John Short and Actress Yeardley Smith
"Maximum Carnage"— An Interview with Make-Up Effects Creator Dean Gates
"A Kid in King's Court"— An Interview with Actor Holter Graham
"The Wilmington Factor"— A Look Back at the Filming of Maximum Overdrive with Members of the Production Crew in North Carolina
"Who Made Who?"— An Interview with Murray Engleheart, Co-Author of AC/DC: Maximum Rock & Roll
"Goblin Resurrectus"— The Restoration of the Happy Toyz Goblin
Behind-the-Scenes Footage
Still Gallery
Theatrical Trailer
TV Spots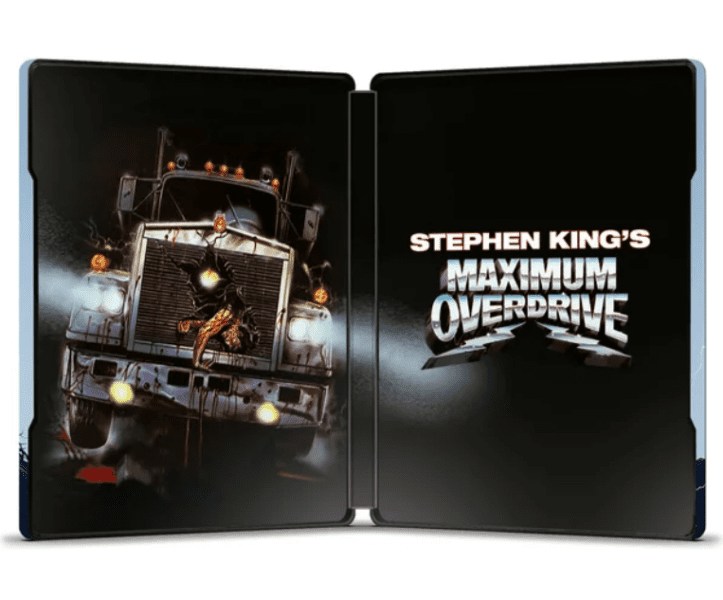 The new Blu-ray + Digital Steelbook will be available on May 30, 2023. Check it out!