It's that time again! Time to review some amazing films for the critically acclaimed festival, Cinepocalypse 2018! Last year, I had a blast covering it (read my reviews of The Crescent, Charismata, and Downrange). It's such an honor to have a chance to watch films from independent artists who put their heart and soul into their projects. Not only can you see it, but you can feel it as well. The first film I will be reviewing for Cinepocalypse 2018 is Satan's Slaves.
Satan's Slaves… what a catchy name, huh?
Original titled Pengabdi Setan, this creepy and intense horror film is directed by Joko Anwar. The cast includes Bront Palarae, Tara Basro, Endy Arfian, Nasar Annuz, M. Adhiyat, Dimas Aditya, and Ayu Laksmi.
Satan's Slaves tells the story of a troubled family who, after losing their mother to a strange illness, is soon haunted by something evil and will stop at nothing to get what it wants. The more they learn about their mother's past, the more bizarre things get it. Did she sign a death note for her children?
Cinepocalypse 2018 is starting out with a bang! Satan's Slaves is a unnerving horror film from beginning to end that actually sent chills down my spine. It's a uniquely disturbing horror story with layers of suspense, lovable characters, and plenty of twists and turns to keep you on your toes.
I really enjoyed the satanic cult story. It felt realistic, well-thought out, and nicely developed. It's something I could totally see happening. There are so many mothers who are willing to do anything to bare a child. Anything at all, despite the consequences. That, in itself, is truly terrifying.
The characters, especially the younger siblings, really stole the show with heartfelt, emotionally driven performances. I loved their bond and their willingness to do anything for each other. Bondi's (Nasar Annuz) transformation must be recognized in Satan's Slaves as well. He goes from a fun, playful little boy to an almost complete mute with no life in his eyes as the events in the house begin to worsen. Very well done!
There's several twists throughout the film that left me shocked, especially at the end. I honestly can't say I saw that one coming, which is always a fun surprise, and who doesn't love surprises? However, I will say the end was the only part that fell a little flat for me. It wasn't bad, just a bit hokey compared to the rest of the film, and it felt a bit rushed.
If you are wondering about the bloodshed in the film, it is very minimal. Satan's Slaves relies more on sound, lighting, and a haunting story. However, the little bit that is shown is intense, gory, and down right disturbing.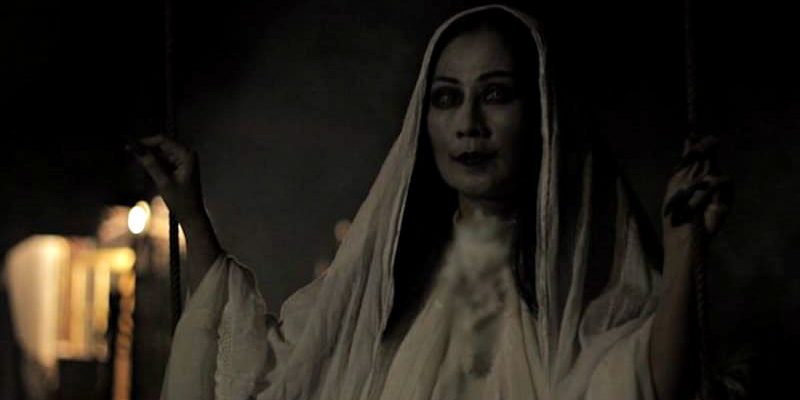 Final Thoughts on Satan's Slaves:
If you're looking for a film that sends chills down your spine like horror flicks did when you were a child, I highly recommend you check out Satan's Slaves. Everything about the film meshes well and creates an eerily uncomfortable atmosphere that you can't help but want to know more about.
Stay tuned for more reviews for Cinepocalypse 2018 throughout the week, and let us know which one you're looking forward to!