A24 recently dropped the official trailer for the new horror film directed by Halina Reijn (Instinct): Bodies Bodies Bodies. Now they've sent word the film has an official poster!
Read on to check it out, but first, check out the trailer if you haven't seen it!
Bodies Bodies Bodies (2022) Synopsis
When a group of rich 20-somethings plan a hurricane party at a remote family mansion, a party game goes awry in this fresh and funny look at backstabbing, fake friends, and one party gone very, very wrong.
The film stars Amandla Stenberg (The Hate U Give), Maria Bakalova (The Bubble), and Rachel Sennott (Shiva Baby).
How about this killer new poster?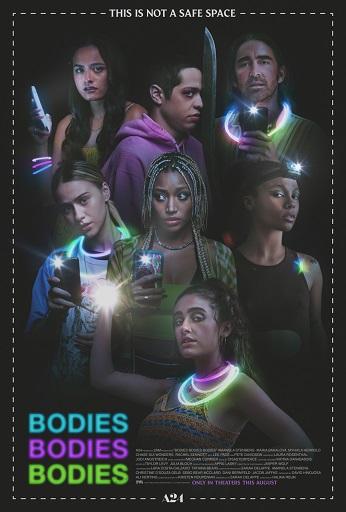 The film will hit theaters August 5, 2022.
This looks like so much fun! We are very much looking forward to this one. What do you think of the new poster? Tell us in the comments!