Werewolves Within delivers a fantastic whodunit horror-comedy. The film was directed by Josh Ruben (Scare Me) from a script by Mishna Wolff (I'm Down). It stars Sam Richardson (Veep, Detroiters), Milana Vayntrub (This Is Us TV series), George Basil (Crashing), Sarah Burns (Barry), Michael Chernus (Tommy/CBS), Catherine Curtin (Orange Is the New Black TV series), Wayne Duvall (The Hunt), Harvey Guillen (What We Do In The Shadows), Rebecca Henderson (Russian Doll), Cheyenne Jackson (30 Rock TV series), Michaela Watkins (The Unicorn, Brittany Runs A Marathon), and Glenn Fleshler (True Detective TV series).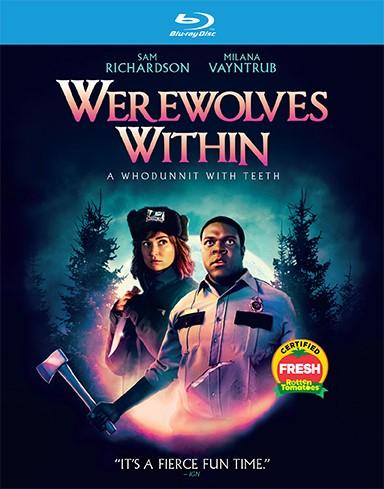 Synopsis for Werewolves Within 
After a proposed pipeline creates divisions within the small town of Beaverfield, and a snowstorm traps its residents together inside the local inn, newly arrived forest ranger FINN (Sam Richardson) and postal worker CECILY (Milana Vayntrub) must try to keep the peace and uncover the truth behind a mysterious creature that has begun terrorizing the community.
I love whodunit films, Clue ultimately being one of my favorite ones… you can't go wrong with that cast. This film is much like Clue except for it takes place in a rural area with heavy snow and a werewolf/werewolves on the loose. So think Fargo meets Clue. Werewolves Within delivers a mysterious story layered with comedy and suspense with quirky characters that you will fall in love with.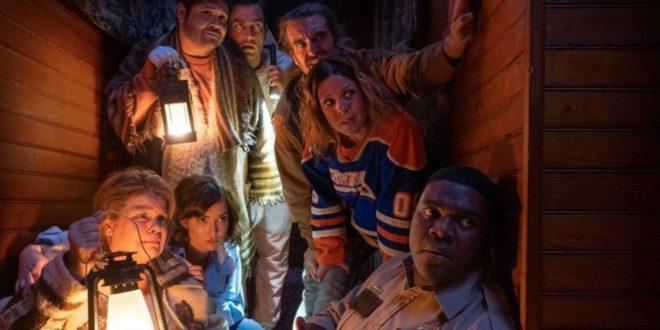 I loved all the performances and characters. Sam Richardson is a gem and always brings more life to a film. His character was genuine, sweet, and the kind of friend we all need in our lives. Milana Vayntrub was equally delightful and I loved seeing her character development. All of the other characters in this bizarre and tight-knit community are also equally quirky, weird, unique, and layered with alternative motives.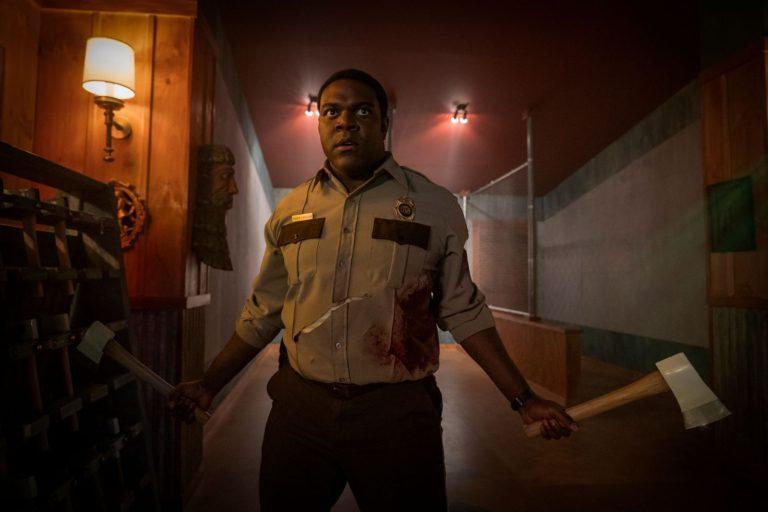 Werewolves Within keeps the audience on its toes throughout the film. Just when you think you know who the killer aka werewolf/werewolves are, things take a turn and you're left guessing again. I love not knowing who it is. It makes the film all that more suspenseful, funny, and interesting. Sometimes films make it way too obvious but much like Clue, it could be anyone.
RLJE Films, a business unit of AMC Networks has released the critically acclaimed horror-comedy whodunit Werewolves Within on DVD for an SRP of $27.97, and on Blu-ray for an SRP of $28.96. IFC Films released it in theaters on June 25, 2021, and on Digital Rental and VOD on July 2, 2021. Werewolves Within is hands down one of my favorite films of 2021 and is the perfect stocking stuffer. Make sure to check it out.