The Blood In The Snow Canadian Film Festival, celebrating its seventh year, again brings some of the best genre entertainment from our neighbors to the North. One of the films selected for this years festival and making its Toronto premiere, was Montreal Dead End, an eclectic depiction of the havoc that ensues after an evil is unleashed throughout the city.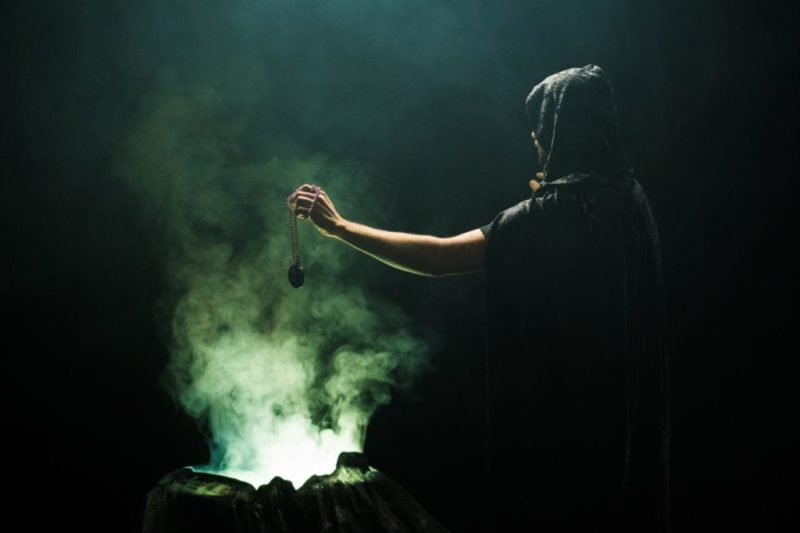 The film combines the talents of 18 different directors who met through an art collective known as Kino. Knowing how difficult is is to get short projects made not only in Canada, but pretty much everywhere, producer and director Remi Frechette spearheaded the idea of Montreal Dead End. It would be an opportunity for so many to create and help tell the story of how a First Nations Guardian (Marco Collin) races across Montreal to search for a magical book, protecting the city as he encounters a post apocalyptic cult, monsters, and other forces of evil.  That description is almost too simple and too specific though, because Montreal Dead End is fucking wild. There are so many people collaborating on this creative entity, that it serves up a slice of what everyone desires in a horror flick. It does begin simply enough though, with a mysterious green mist leaking out of a pothole and beginning to permeate the beautiful city of Montreal.
In a 15 part anthology we are led through different neighborhoods, each with a unique take on the horrors that those residents encounter. The film attempts to seam together darker scenarios with much lighter fare, weaving together lesbian cannibalism, an island of lost creepy children, a killer karaoke outing, ghosts and an enraged man with several penises on his face. Chaos is beginning to ensue with countless becoming oversexed, violent, even zombified while giving us more Evil Dead homages than you can shake a possessed shrub at.
I had a lot of fun with Montreal Dead End, it was a clever collaboration with lots of laughs that paired nicely with the more sinister additions to the story. There was a ton of heart on this tight budgeted project. Help support indie horror and Canadian horror and follow Montreal Dead End at their Facebook page HERE.