What if the boogeyman were real? What if you did not obey his every command that he would hunt you down and murder you and your family. What happens when horror meets reality? This sadly is the case in the HBO documentary Beware the Slenderman. The film premiered at South by Southwest in March 2016 and was directed by Irene Taylor Brodsky. The film follows the brutal stabbing of a 12 year old girl by two of her classmates. In the true fashion of horror movies, the victim was stabbed nineteen times but managed to crawl out of the woods to the road where she was spotted by a bicyclist. She was at the point of death when found and rushed to the hospital where she made a full recovery.
Beware the Slenderman takes on a real life horror story. The imagines in the trailer paint Slenderman as a pale, thin ghoul with no facial features and tentacle arms.  Slenderman was originally just an internet meme created by Eric Knudsen who was known to stalk and prey on children and was featured in fan art and fan fiction on the online forum Creepypasta. The idea of this ghoulish figure was imprinted on two girls: Morgan E. Geyser and Anissa E. Weier. The two girls led their friend into the woods and brutally stabbed her 19 times because they believed that if they did not appease Slenderman, he would kill them and their families.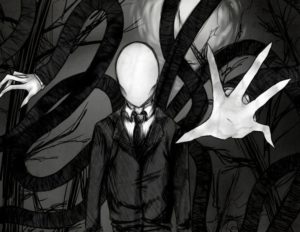 Courtesy of Creepypasta Wiki
The documentary focuses on interviews with the girls' parents as well as footage from the police interviews of the girls. The main focus is Slenderman and what would possess these two girls to brutally stab their friend over an imaginary boogeyman.
The trial of Geyser and Weier is still pending; both teens are being tried as adults in the state of Wisconsin. Beware the Slenderman will air on HBO on January 17, 2017.