When I was in still in school, I would frequently hit video stores and buy used VHS copies of any horror films I could find. This was how I was introduced to Frank Henenlotter's Brain Damage, albeit in an edited form. I remember loving it, having never seen anything quite like it at my young age. In recent years, I've discovered more of Henenlotter's work, becoming a huge fan of the Basket Case trilogy and, to a lesser extent, Frankenhooker. I've always wanted to revisit Brain Damage. Recently, Arrow Video released a limited edition uncut Blu-ray of the film, so I figured it was the perfect time to do a retro review as I was seeing it in its intended form for the first time.  
Brain Damage is the second film from writer/director Frank Henenlotter; the first film he directed after Basket Case. The film stars Rick Herbst (AKA Rick Hearst, who went on to a lengthy career in soap operas), Gordon MacDonald (Saving Grace TV Series), Jennifer Lowry (in her only film role), Theo Barnes, Lucille Saint-Peter and Vicki Darnell (Frankenhooker 1990). There were also cameo appearances by Beverly Bonner, Kevin Van Hentenryck, and horror host John Zacherle as the uncredited voice of Aylmer.
IT S A HEADACHE FROM HELL!
From Frank Henenlotter, the man behind such cult horror favourites as Basket Case and Frankenhooker, comes Brain Damage the ultimate head-trip, now finally on Blu-ray!
Meet Elmer. He s your local, friendly parasite with the ability to induce euphoric hallucinations in his hosts. But these LSD-like trips come with a hefty price tag. When young Brian comes under Elmer s addictive spell, it s not long before he finds himself scouring the city streets in search of his parasite s preferred food source brains!
Featuring late TV horror host John Zacherley as the voice of Elmer, Brain Damage boasts some of the most astonishing bad taste gore-gags ever realized, including the notorious brain-pulling sequence and another that let's just say ends with a distinctly unconventional "climax.
SPECIAL EDITION CONTENTS
Digital transfer from original film elements
High Definition Blu-ray (1080p) and Standard Definition DVD presentations
Original Mono audio (uncompressed PCM on the Blu-ray)
Optional English subtitles for the deaf and hard of hearing
Brand new audio commentary by writer-director Frank Henenlotter
Brand new interviews with cast and crew
Q&A with Henenlotter recorded at the 2016 Offscreen Film Festival
Theatrical Trailer
Reversible sleeve featuring original and newly commissioned artwork by Sara Deck
PLUS MORE TO BE ANNOUNCED!!!
FIRST PRESSING ONLY!
Limited edition O-card with exclusive artwork
Collector s Booklet with new writing on the film by Michael Gingold
The Movie
I watched Brain Damage yesterday for the first time in 20 years and I've got to say, it is definitely my favorite Henenlotter film. Although I haven't seen Bad Biology yet, I doubt it comes close. It strikes a wonderful balance between social commentary and goofy fun while featuring excellent gore gags that still hold up to this day. Some of the more memorable kills include a man being slaughtered while sitting on the toilet and the room being showered in blood and a woman's brains being eaten during a kiss. My personal favorite scene starts with a blowjob and ends with the women's brain being sucked out through her mouth. This is something that needs to be seen to be believed.
The hallucination sequences range from goofy and fun to disturbing and grotesque. One of the fun ones involves Brian seeing flashing, colored lights in a junkyard. One of the more disturbing/gory ones involve the light over Brain's head turning into a giant eyeball and Brain pulling his brain out through his ear, resulting in a never ending waterfall of blood.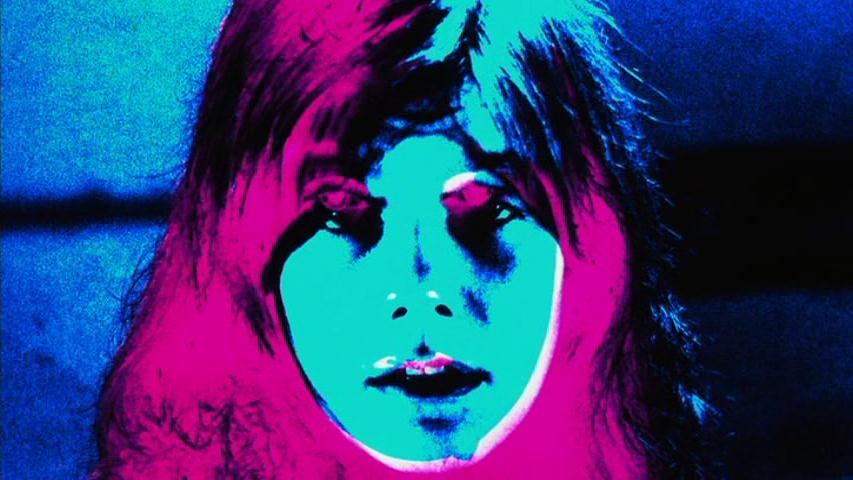 Don't let this fool you, this film is not all fun and games. There is a message here about the perils of drug addiction. Brian starts out as a victim, receiving his first fix against his will. He soon becomes a junkie, desperate for his next hit. When he finds out Aylmer is eating people while he is high, he tries to ween himself off the drug and goes through horrible withdraws. He eventually hits the point where he can't take it anymore and submits to Aylmer once again. Brian spends a majority of the film destroying the lives of those around him, including those he loves, without even realizing it, just like drug addicts tend to do. As someone who lost a brother to heroin addiction, the message of this film comes through loud and clear for me. The final act of the film is absolutely heartbreaking.
Special Features
The limited edition Blu-ray is jam-packed with special features. There is an interview with Brain Damage superfan Adam Skinner where he discusses how he came to see the first time, shows off his Brain Damage memorabilia collection, as well as the Brain Damage influenced songs he wrote with his band The Statutory Apes. There is an almost hour long making of the film that covers every aspect of the film in great detail that features interviews with various cast and crew members. There are a couple of nice segments taking a look at the makeup effects and visual effects. There is a segment with the script supervisor talking about what her experience was like making the movie. There is a segment with Rue Morgue's Michael Gingold and director Frank Henenlotter touring the places that served as locations for the film. There is also a film festival Q & A with director Frank Henenlotter. Also features image galleries, original theatrical trailer, a commentary with Frank Henenlotter, isolated score and a short film which marks the final on-screen credit of John Zacherle.
Final Thoughts
Brain Damage is easily one of Henenlotter's best and most underrated films. It features an excellent cast, impressive and memorable gags, a fun yet heartbreaking story and a charming and manipulative villain. If you haven't seen Brain Damage, I highly recommend you check it out. It's a hell of a trip. Be sure to pick up the amazing Blu-Ray from Arrow before it goes out of print.