Bobby Canipe Jr's KARATE GHOST, aka BLACK BELT JOE: A review…
Karate Ghost (2023) Synopsis:
"Death and destruction fall upon all who enter the dojo from the Karate Ghost! The undead legend of Black Belt Joe is as real as a judo chop cutting though a wood board. One thing is for sure, you won't be bored in this over-the-top horror karate comedy that is sure you to have you rolling on the floor with laughter and screaming at the blood and gore! Mullets, mayhem and monsters from beyond the grave await you in this thrilling action-packed movie that is Karate Ghost!"
No-budget filmmaker James Balsamo (Hack Job; Cool As Hell) is known for not just touching on elements of the nonsensical and absurd in his films, but absolutely wallowing in it. So, it comes as no surprise that this directorial effort from Bobby Canipe Jr. (Intinction), that was co-written & produced by Balsamo, (who also stars, along with Joe Borlik; Hollywood Werewolf, who co-wrote as well), is a laugh-out-loud spoof of virtually every martial arts film trope that never, EVER plays it straight.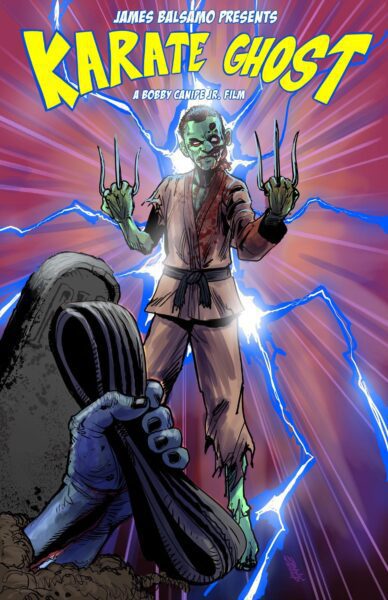 Karate Ghost opens with a pseudo introduction from WWE star The Godfather, and summarily plunges us headlong into the story of Nick Laser (Balsamo) in his decades long quest to avenge the death of his brother, Rick Laser (Niki Parks) at the hands of jiu-jitsu expert Black Belt Joe (Borlik). In what has to be the quickest training montage known to man, Nick gets his jiu-jitsu black belt, for the low price of $29.95, from instructor Wong Dong Chong Smith (Garrick Lane; Jeopardy). Then, in what seems waaaaay too soon to work as a plot device, Black Belt Joe loses a fight to the death with Nick in a tournament that takes place every 365,000 days.
But is Rick truly avenged?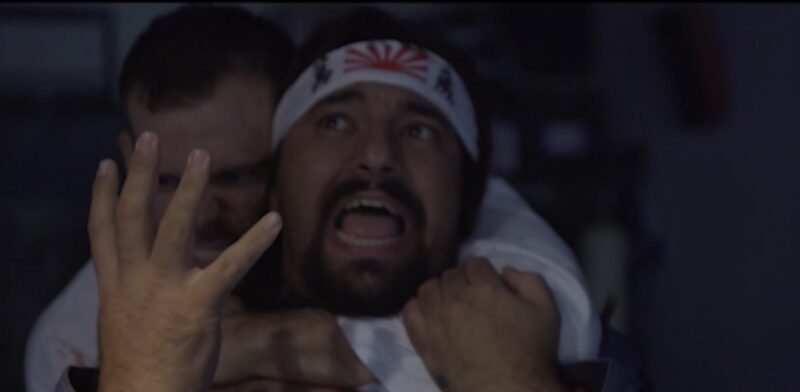 Tens years later, our hero is working as a maintenance guy at a newly opened dojo run by Alan (Cagney Larkin; Babe Beach), and his impossibly cute girlfriend Selena (Morrigan Thompson; the upcoming Debbie Does Demons), when Black Belt Joe returns from the grave to exact his vengeance for Nick's revenge and for…vengeance? Or something.
Karate Ghost is neck deep in the type silliness that this gang of miscreants is known for: intentionally terrible action sequences, absurd effects, hungry floors, back hair, pew-pews, shady real estate deals, and undead jiu-jitsu action, all blended together for a film experience that has a bit of, dare I say, sweetness to it's comedy driven plot. There's even a bit of a homage to David Carradine in Kung-Fu as Nick's journey leads him to vengeance or failure.
The acting is (intentionally) terrible, especially Balsamo (with a perfectly coiffed mullet, and a bad case of the crazy eyes) who does a completely over the top Steven Segal impression throughout, and everyone is in on the joke with the "wink-and nod" approach to the script. The best part about films like these is: nobody involved is taking it too seriously, they're just having fun making a movie, and it really shows in comedic chemistry that this team has. Even the horror elements, while marginally creepy in regard to the make-up, are played for laughs.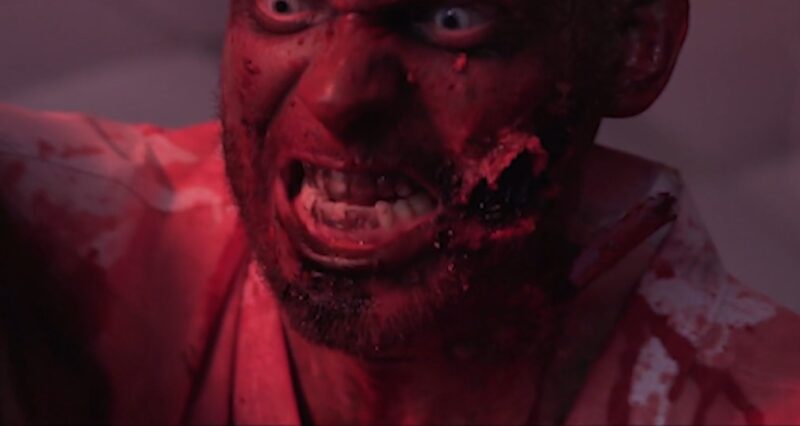 Karate Ghost is a fun, irreverent, very low budget, comedy with a heart, crafted by a bunch of goofballs having the time of their lives doing it. High art? No. Entertaining and hilarious? Yes.
Karate Ghost is available now at Wal-Mart and other retailers.