Asking a horror fan what their favorite horror movie is is like asking a food critic what their favorite dish is; it all depends on the mood. Sometimes I'm in the mood for a complex psychological thriller and will throw on Jacob's Ladder. Other times, I just want to see camp counselors get slaughtered by Jason Voorhees and will buckle down for a good ol' Friday The 13th flick. However, if I had to choose one horror film that I hold above all, it would be Little Shop of Horrors. 
I first watched this movie when I was five years old and, quite frankly, I didn't enjoy it as much as I enjoyed a Venus flytrap spewing cuss words over and over again. Years later, when I was about fifteen, I decided to watch the movie again. Holy cow, what a different experience I had. As one can imagine, I watched a lot of movies between ages five and fifteen, but none captivated me as much as Little Shop of Horrors. 
The movie follows Seymour Krelborn (Rick Moranis), who has a chance to rise to success after a mysterious blood-thirsty plant enters into his life from out of nowhere. All he has to do is keep the plant fed, but it requires a lot more than just sunligh Along the way, Seymour tries to swoon his co-worker, Audrey (Ellen Greene), away from her abusive dentist-boyfriend, Orin Scrivello (Steve Martin), all while having celebrity appearances from Jim Belushi, John Candy, Christopher Guest, and even Bill Murray. If this doesn't sound like a recipe for success, add in the ingredient that the movie is a musical as well. 
Rick Moranis, who is known mostly for comedies like Spaceballs and Ghostbusters, sings surprisingly well. He flawlessly executes the musical numbers as well as the comedic bits. However, Ellen Greene – who reprises her role as Audrey from the stage play the movie is based on – is really the star of the show. She speaks in this high-pitched mouse voice that, at first, is unbearable. As the movie goes on, I found it to not only be pleasant but add to her character. Audrey is the epitome of innocence and helplessness, dreaming for a brighter future. 
Throughout the movie, the characters build-up how satanic Audrey's abusive boyfriend is. This makes the audience excited to see who this malicious menace is and, when he is first shown riding his motorcycle through a musical number, it's impossible to not smile when seeing it's comedic-icon Steve Martin. Steve Martin is only in the movie for a few scenes, but most people I watch this with come out citing his character as their favorite. While I think he's great, I don't think anything holds a candle to the singing Venus flytrap, Audrey II.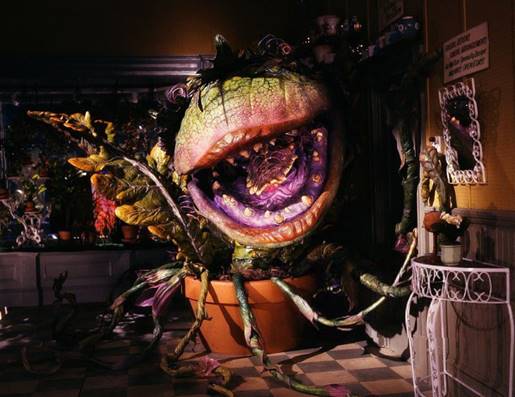 Audrey II is obtained by Seymour as a seedling. As the movie grows on, so does Audrey II. At about the halfway mark, the plant has developed enough to speak to Seymour. The late-and-great Levi Stubbs (best known as the lead vocalist of the R&B group The Four Tops) provides the voice for the plant. Charm oozes from his voice with every lyric he provides. Audrey II is the definition of a likable antagonist. The entire movie, she's munching on a finger or a whole human body that she groomed Seymour into getting for her, but she's too charismatic to be mad at. Oh Audrey II, you're hard to love, but harder to hate.
The movie is filled to the brim with great songs, but the most notable one is "Mean Green Mother from Outerspace," which was performed live at the Oscars by Stubbs. This made history by being the first Oscar nominated song that contained profanity, leading to edits to be done to the lyrics for the telecast. It really pains me to see that this movie is severely looked over. Now, it would almost be a chargeable offense to talk about Little Shop of Horrors and not talk about the cut song and ending. Originally, the movie had an ending that was viewed as so dark, it had to be entirely reshot. Theatergoers instead saw a much sappier and happy-go-lucky ending. Which do I prefer? Honestly, both. One of the most impressive aspects of the film is that both of the endings feel like natural conclusions, even with how different they are.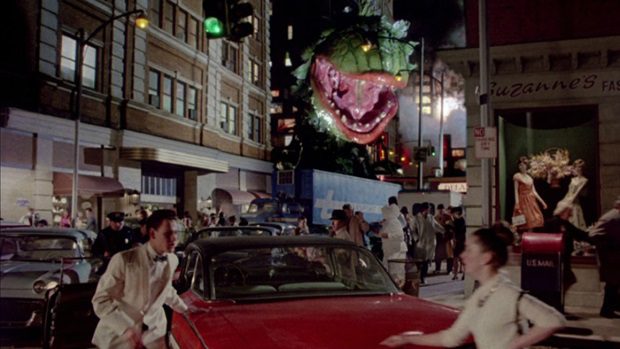 On a $30 million budget, it only managed to gross $39 million. The studio saw it as a massive underperformer, but critics gobbled it up like it was Thanksgiving. With rumors of a remake circulating around, I think the movie is more relevant than ever. While this plant-based horror musical was not my favorite thing at first, I can certainly say it grew on me over the years.