There's nothing purer than a child's mind. From the inner workings of their imaginations to their nightmares, it's the essence of genuine fantasy and horror in its rawest form. But what if they were more? What if a child's imagination was a gateway to a hidden world between limbo and reality?
Writer and director Ryan Stevens Harris (Moonfall 2022) explores these astral avenues and more in Moon Garden (2023).
Moon Garden Synopsis
When a little girl has a terrible accident and slips into a coma, she finds herself thrust into a darkly surreal industrial dreamworld. Haunted by a nightmarish specter that feeds off her tears, she must follow her mother's radio-static voice to find her way back to consciousness.
The film stars Haven Lee Harris, Augie Duke (Spring 2014), Maria Olsen (Reunion 2015), Timothy Lee DePriest ("Westworld" 2022), Philip E. Walker (The Hands 2022), and Morgana Ignis (Discarnate 2018).
Roll that beautiful poster footage!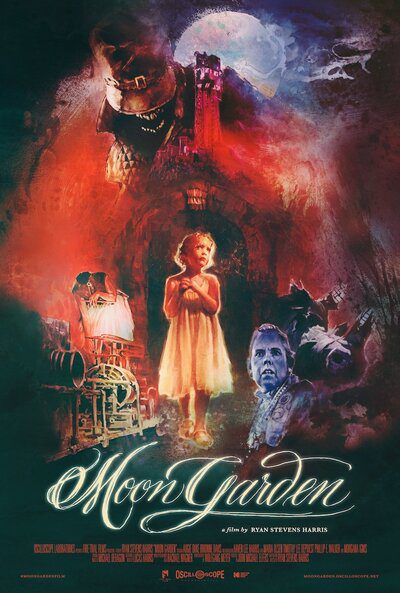 THE SETUP
Young Emma is a free spirit who just wants to be a child and make her family happy, but she feels she's losing her parents. Her father is an overworked, struggling novelist, while her mother suffers from depression, and longs for her lost youth.
We first meet Emma being awakened by her mom trying to sneak her out to a car packed full of luggage in the middle of the night. The escape is foiled by her upset father and she's taken back into the house before her mother can get the car in gear fast enough. It's clear there's a history of tension between her father and mother by the quiet fighting, the yelling you can hear through the walls, and the way they look at each other. Both of her parents are attentive to Emma, but they're both emotionally absent due to a lack of motivation to repair their fractured, modest family unit.
On a moonlit night of more fighting, Emma frantically runs down the stairs in an effort to stop the heated domestic feud but takes a bad fall down the stairs and ends up in a coma. Emma comes to a surreal dark forest setting full of fantasy wonder and hellish nightmare presence. Her frightened tears manifest a monster that emerges from the ground with serious Chatterer cenobite vibes. The Teeth monster has a ravenous drive to drain Emma for more tears, killing anything in his path to get to her.
Emma's dream world has many layers of memory-inspired anecdotes and parables that are her perceptions of what her parents sing, read, or unintentionally traumatized her with. Some vignettes even involve a giant version of her stuffed animal as a Salvador Dahli-type mechanical beast she can ride and control all by pulling its nose hairs. Emma is given a radio by a helpful guide of her inner consciousness so that she can hear her mother's voice over the weak signal and static. Emma accepts the advice that the signal can lead her back home if she can learn to use and trust her own imagination along the way.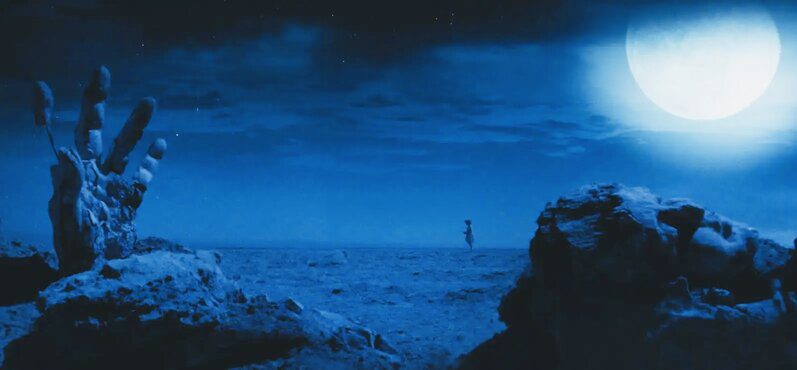 The Payoff
Moon Garden was audibly and visually stunning. The antagonist Teeth villain was a haunting creature. I couldn't tell where the actor ended and the stop-motion effects began. My hat goes all the way off to Rachael Wagner (The Monster Project 2017) for special effects and makeup. The child actor who played Emma (Haven Lee Harris) was remarkable. Moon Garden was shot on expired 35mm film stock with vintage lenses that really gave the dream world an abstract gritty glow.
Writer/director Ryan Steven Harris mentioned:
"Moon Garden was always meant to feel like a film out of its time. As if an old dusty film reel were found in an attic somewhere, wound up on a projector, and rediscovered."
Moon Garden is an authentic artisan experience that bleeds the passion for creative filmmaking. The film was more fantasy than horror, but think Alice in Wonderland meets Shudders Mad God.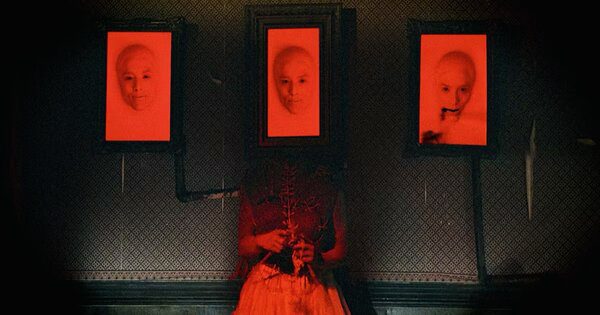 Moon Garden (2023) Final thoughts 
To get an idea of how great this film is, take a look at the 2022 FilmQuest Film Festival awards. Moon Garden took home hardware for Best Editing, Best Sound, Best Production Design, Best Costumes, and Best Makeup. These five awards culminated in Moon Garden taking home the evening's top honor: the Audience's Choice Best Feature Film. Moon Garden was also nominated for Best Cinematography, Best Score, and Best Visual Effects.
Flat out, Moon Garden is an indie cinematic artistic achievement and an inventive way to share a recovery story from a Child's perspective.
Moon Garden will be in select theaters on May 19th!
Check out the trailer below.