Unwelcome (2022) is the latest film from Well Go USA. It is a home invasion film with an Irish folk horror twist. I am definitely intrigued! Let's take a look at the poster and trailer!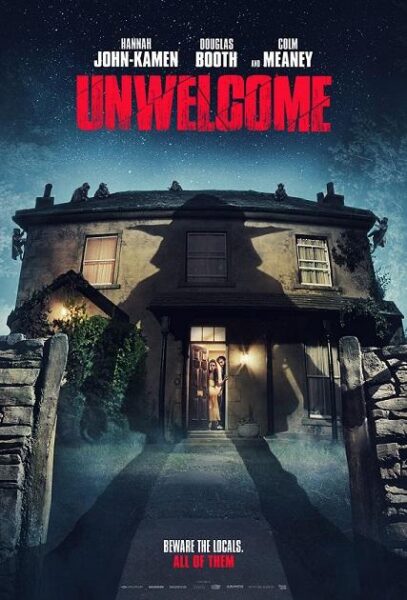 Unwelcome Synopsis
A couple escapes their urban nightmare to the tranquility of rural Ireland only to hear stories of mysterious beings who live in the gnarled, ancient wood at the foot of their new garden. As warned by their new neighbors, in Irish lore the Redcaps will come when called to help souls in dire need of rescue, but it's crucial to remember that there is always a dear price to pay for their aid.
Unwelcome, directed by Irish-born Jon Wright (Grabbers, Robot Overlords) and based on an original screenplay by Mark Stay, stars Hannah John-Kamen (Black Mirror, Ant-Man and The Wasp, Ready Player One), Douglas Booth (Loving Vincent, hit Netflix film The Dirt, Jupiter Ascending, Pride and Prejudice and Zombies) and Colm Meaney (Star Trek: Deep Space Nine)
The Trailer:
Unwelcome hits select theaters on March 10, 2023. This film definitely piques my interest. How about you?  Will you be checking this one out? Let us know in the comments.
Stay tuned to PopHorror for news, interviews, reviews, and much more!