For an action junkie, there's nothing quite like the nostalgia of a good, old fashion gangster film. For some, an exception might be a adrenaline-fueled feature full of massive explosions and gun fights. Screenwriter Doug Tochioka ambitiously combines both of these worlds for his directorial debut, Syndicate Smasher, with the help of fellow filmmaker Benny Tjandra (Blonde Squad). Showcasing several cult stars including Mel Novak (Game of Death 1978, An Eye for an Eye), Laurene Landon (Maniac Cop, Maniac Cop 2) and Joe Estevez (Soultaker, Werewolf), this action-packed gangster throwback is a fun reminiscence of classic mobster films seasoned with an element of the box office hit, The Expendables.
When a group of mercenaries, lead by former Green Beret Milan (Mel Novak), is hired for a hit by the Russian mob, the deal becomes more complex when the Russians refuse to honor the original deal. Pressuring the mercenaries into doing their dirty work, the Russian mob instructs them to serve as stand-ins for a drug deal with another crime family in order to receive their full payment. However, the Russians learn that there is no honor and loyalty when it comes to pressuring hitmen for hire.
Turning the tables, Milan and his crew double cross both mob families, taking the money and drugs for themselves as compensation for their last job. In return, the mercenaries receive a target on their backs by the Mafia, the Yakuza, the Russian mob and the Tongs. The plot thickens when rebellious law enforcement officer Carol Driscoll (Laurene Landon) closes in on her investigation of mob boss Russell Dippolito (Nic D'Avirro: Betrayal). Fueled by vengeance, Driscoll breaks through some red tape and will stop at nothing to bring Dippolito down. However, aside from the mercenaries, there are others who are not fond of this self-made mob boss. This entanglement boils to a dramatic climax, and a firefight ensues, leaving a plethora of bullet-riddled bodies.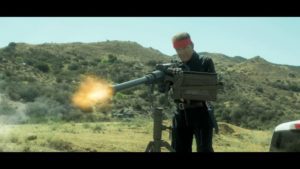 With an abundance of CGI that may turn some people away, there is substance found in the film's core storyline and lineup of cult star talent. Although it barrows action genre elements, Syndicate Smasher retains its own originality by pitting the entire underbelly of organized crime against their own muscle for hire. Despite the layered plot development, some character development is lost among the actions scenes, which shallows moments intended to be emotionally deeper.
Regardless of a few downfalls, the cast helps hold things together among the firefights and assassinations. Mel Novak is a familiar face to cult action fans, and one that will please with his cool and collected portrayal of the mercenary leader who looks out for his own. Laurene Landon, who horror fans will recognize from Maniac Cop, dominates her role as a rebellious investigator full of fire and fiery.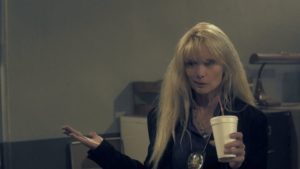 Though Syndicate Smasher may not appeal to our average horror readers, anyone who appreciates the ins and outs of indie films will find this ambitious feature admirable. Any fans of cult classics in general will also enjoy seeing these familiar faces gracing the screen. For fans of classic action flicks, all this and more will be enjoyed. Syndicate Smasher is streaming now on Amazon Prime.