Get ready for the heavy metal to hit the floor and the demon slaying to commence. Here comes the epic conclusion to the popular TV series Todd & The Book of Pure Evil, with the brand new animated film, Todd & The Book of Pure Evil: The End of the End, which premiered today at the Screamfest Horror Film Festival. In the film, we see that there is a new pure evil one that is hellbent on ending the world. The only people trying to stop it are Todd, Jenny, and Curtis. I was curious to see if this film was as good as the TV series. So did it live up to my expectations?
Official Synopsis:The animated conclusion to the live action Todd and The Book Of Pure Evil Show. Todd tries to mend his friendship with Curtis after killing his girlfriend. The book has returned along with Hannah and there is talk of a new Pure Evil one.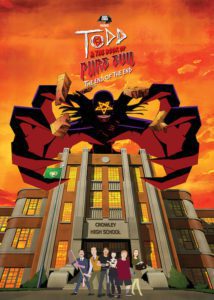 The music in Todd & the Book of Pure Evil: The End of the End is epic. Every scene drowns in the thunderous glory of metal, from power ballads to face melting, threshing guitar deathcore. The film starts out with a sad retelling of how Todd banished The Book of Pure Evil, but ended up killing Hannah. But all is not what is seems when Atticus is released from the book and Hannah comes back.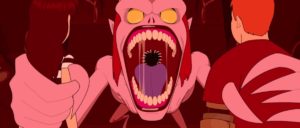 This film is funny as fuck. Sprinkled throughout are references to boners, dildo nunchucks and an epic attempt to save a blow up doll. My favorite funny character was Sweater Vest Beast (Elliot). Elliot brings back Atticus, who ends up being an unlikely part of the gang. Atticus ends up laying the smack down on a wolf.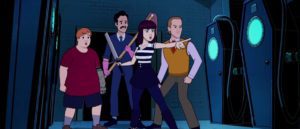 The characters in Todd & the Book of Pure Evil: The End of the End are out of this world. Alex House (Todd), Maggie Castle (Jenny) and Bill Turnbull (Curtis) return to voice their respective characters, along with Jason Mewes, who voices Jimmy the Janitor. The animation of the characters is cartoony but it works for this film. It is so fucking graphic. There's blood and gore from the beginning to the end, including everything from cheerleaders getting dismembered to acid melting acne deaths. The film builds up to the epic battle between the new pure evil one and Todd.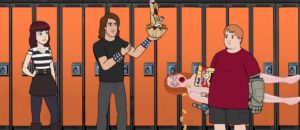 I thoroughly enjoyed Todd & the Book of Pure Evil: The End of the End. It is like Scooby Doo meets Evil Dead and it reminds me of Deathgasm so much. It's funny as fuck and graphic as hell, all things that retain the spirit of the show. The film is set to be released on VOD/DVD and Blu-ray on December 12th. Plus, it is going to be at Screamfest on October 14th. Have you seen Todd & the Book of Pure Evil: The End of the End? What do you think of the epic conclusion? Let us know what you think in the comments below!