Only a few things come to mind as more difficult than becoming a new parent. Now add living with untreated mental illness and grieving trauma. Mixed in some baby blues and postpartum psychosis and you've got a recipe for real-life elevated horror cinema.
Adalynn(2023) Synopsis

After Adalynn's husband goes away on business, she is left alone to care for their newborn while being challenged by grief of her past, postpartum, intrusive thoughts, obsessive compulsive disorder, and an unseen antagonist. But, with the odds against her, can Adalynn survive her darkest nightmares until her husband can return home to help her?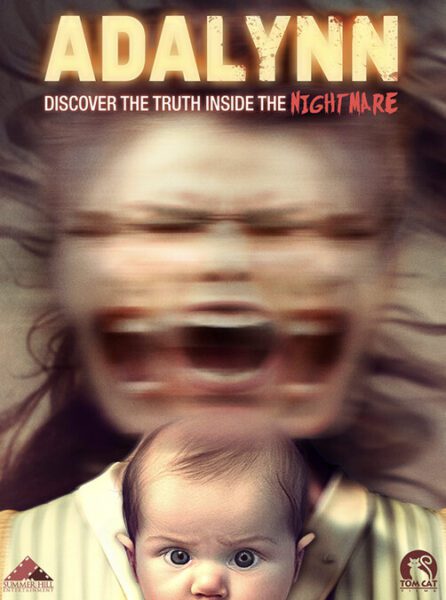 A Mental Mystery
When I read about Adalynn (2023) before the screening I was automatically excited. The horrors of dealing with mental health blended with postpartum are avenues I haven't seen in a thriller before. It's things of horror news storylines. Adalynn (Sydney Carvill) illustrates new mom baby blues with intrusive thoughts well, and their power to emotionally and physically drain mothers.
Adalynn (2023) is a psychological mystery of mental torture that illustrates how isolating mental illness is for its sufferers. It's fitting that the movie opens up with Adalynn talking to her new baby daughter Elizabeth. She tells Elizabeth that her life is going to be perfect. She portrayed a love story of love at first sight when she met her father and had a perfect wedding with a perfect house and neighborhood. Only to find that Adalynn battles with obsessive-compulsive disorder. I'm sure audiences will keep guessing if any of this is real.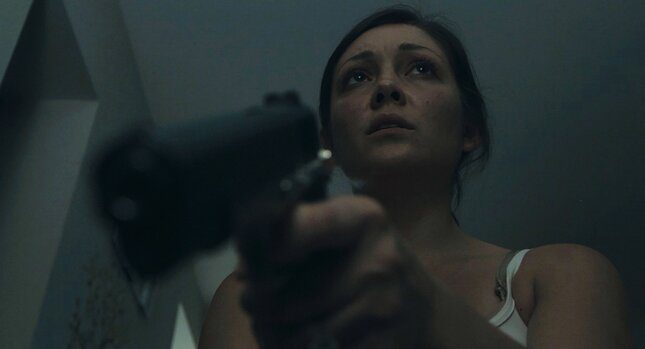 The set takes place mostly entirely in Adalynn and her husband Bill's (Wade Baker) home where she has to battle the shame of violent thoughts to tears. Exhaustion from feeding every two hours and her own OCD diagnosis while learning a new medication. Also navigating the betrayal of her own mind. She's not sure if there's a possible stalker trying to invade her home or if she is experiencing a psychotic break.
Adalynn (2023) does jump around a bit, which really plays to a new mother's loss of time accurately. It plays on the strings of new parent fears. Falling asleep while holding the newborn, or having dark visions of horrible things you know you'd never do, but can't stop thinking about. The anguish of not being able to settle a colicky baby.
Meanwhile, Adalynne is not sure if she's experiencing OCD symptoms of messing with the locks or if someone is actually trying to break in. She suffers nightmare after nightmare with false awakenings and haunting trauma. The film takes you back and forth while doubting the mental state of Adalynn.
Final Thoughts – Adalynn (2023)
Adalynn (2023) will keep audiences guessing until the very end, and then some. There were some squeamish uncomfortable truths that this movie captured well: new mothers and having to battle new medications. Maneuvering mental illness and entire life role shifts. Life of selfies on a beach to keeping a little human alive can be jarring for anyone and create an identity crisis. The sound design and cinematography capture psychosis accurately. Hearing windows tapping, seeing door handles move, or window blinds adjusting themselves. The phantom phone calls were disturbing and the self-harming may be triggering for some, but overall I believe Adalynn hit its own mark.
Adalynn (2023) will be available on March 28th on digital platforms and DVD. Check out the official trailer!