It's been a little while since we've talked with the guys behind Blood Moon Pictures, P.J. Starks and Eric Huskisson, and I thought it was time I tracked them down. Come to find out, they've got a new movie in the works called New Fears Eve.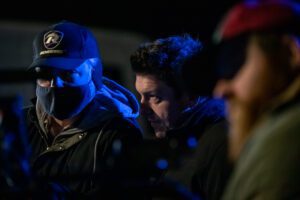 PopHorror: It's so good to talk to you guys again! Plus, you've got a new movie coming out. What's this one called?
Eric Huskisson: Our newest feature is titled New Fears Eve. The focal point revolves around a mandatory New Years Eve party at a company called Hooper Industries, Inc.
PopHorror: There aren't many New Years Eve horror movies out there. Why this holiday?
Eric Huskisson: Our last project, 13 Slays Till X-Mas (PopHorror review), far exceeded our expectations and was received well. The success of the film made us look at the next holiday. P.J. had already pitched me the idea of New Fears Eve while we were in production for 13 Slays, and I was like, "Can we make this movie first?" With the success of 13 Slays, I told P.J. we needed to go with his New Years Eve story concept for our follow-up project.
PopHorror: What is New Fears Eve about?
P.J. Starks: Three friends just trying to survive the rigamarole of corporate America are basically forced to attend a mandatory New Years Eve work party. Unbeknownst to them, they're each being stalked by a vicious serial murderer known as The Doctor. He follows them to said party, they get trapped inside the inescapable office space, and all Hell breaks loose.
PopHorror: What can we expect from New Fears Eve? 
P.J. Starks: I'm a huge fan of '80s and '90s slasher flicks. This film isn't a throwback in any way, but you will see the influence those films have had on my own personal take of the sub-genre. I'm a gorehound, so audiences can expect a healthy kill count—upwards of 30 plus—and each victim has their own gruesome, unique death scenes. They're all practical effects, too, as we're big proponents of on-camera splatter. It is a horror comedy, so you can also expect laughs. We take the horror elements seriously, but there are a lot of genuinely funny moments.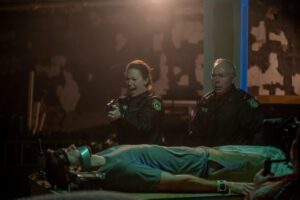 PopHorror: Will this one be an anthology like your previous films? 
Eric Huskisson: No, this will be our first single narrative feature. We wanted to try something a little different, so we decided not to do an anthology with this movie. We are already talking about our next project, and it's presently an anthology. If New Fears Eve does well, we may stick with the single narrative style for our next feature, too. We'll have to see.
PopHorror: Tell me more about The Doctor. Where did the idea for him come from? What's his backstory?
P.J. Starks: He's a silent masked killer akin to Michael Myers or Jason Voorhees, although he isn't undead or necessarily superhuman in any way. The Doctor does dispatch a few victims in ways considered impossible by normal strength standards, but this is a movie.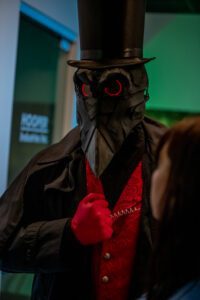 His moniker is derived from his design. Because of the recent pandemic, imagery of the Plague Doctor became common place. I was surprised to find the Plague Doctor mask has never been used by a slasher villain. When making the murderer, I wanted The Doctor to be a hybrid of the Plague Doctor and Jack the Ripper, who was also rumored to be a surgeon. We didn't want the look of the mask to be your typical Plague Doctor though. It needed to be stylized and original to this character. I do want to give Jesse MacDonald a shout out. He's the actor behind the mask and did an incredible job giving the character a lot more nuance and personality.
As you can imagine, he kills many of his victims with surgical or medical implements, but don't let that fool you. He uses variety of other weapons to kill, like double-sided axes, a meat cleaver, and frying pans. There are several very original kills in the film I think will have horror fans talking. I don't want to give away too much about the character. I'd rather horror lovers discover The Doctor for themselves when the movie comes out.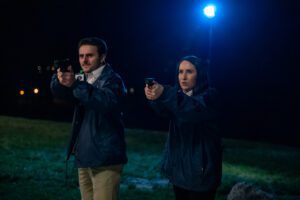 PopHorror: Who will you all be working with this time? 
P.J. Starks: Our leads, Lily-Claire Harvey, Turner Vaughn, Matthew Tichenor and Collin Horn, are all basically newcomers. Lily and Turner have worked on a couple indie films previously, but Matthew and Collin are completely new to the game. Jay Woolston and Alyssa Rhoads have become stapled actors in our projects. We love working with them because they're fun and both do a great job.
Sonya Delormier returns after giving an incredible performance in 13 Slays, so we knew we wanted her in our next film. This time, she's joined by Cody Webb, who's someone we've never worked with before. He came onto the project a little late due to some unforeseen issues but has delivered and been a blast on set. Overall, we have some very strong actors, and the final product will be better because of it.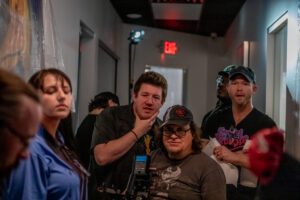 Behind the camera, we have our DP Alex Clark and First AC Steven Dean, who we also worked with on 13 Slays. I've known Alex and Steven a long time, and they're both good at what they do. I can't wait for everyone to finally see the footage from this. Alex has captured some truly beautiful images.
Stephen Hodke from Taintbad Productions, that we've worked with previously, is returning to head the effects department along with Blaze Bolden and Isa Blair Morales, who are both new to our crew. They've done an insanely kickass job with all the practical effects that range from guttings to decapitations, impalements, and a few very bizarre and elaborate gore effects. I seriously cannot wait for everyone to see the horror they've wrought on screen.
Most of our crew, we're working with for the first time, such as script supervisor Joshua Siegel, grip Ryan McKain, wardrobe head Shawna Fields, boom operator Josh Orion, production assistants Tim Camp, Jackson Jorn, Landon Dean and more. These people are the real backbone of the project.
And, of course, there's Rocky Gray, who's composing the score.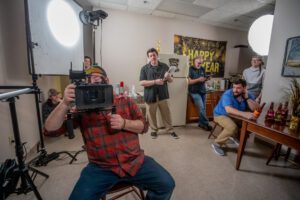 PopHorror: How is New Fears Eve different from your previous films?
P.J. Starks: The biggest difference is producing a single narrative feature this time. We wanted to get away from the anthology format, which has allowed to do a lot of firsts, really. I started out making comedies, eventually gravitating to horror. Eric is also a lover of comedy, so another way we've been able to spread our wings is making this a horror-comedy versus a horror film with a little bit of comedy in it.
Another big first is bringing in several recognizable names. New Fears Eve features Felissa Rose (Sleepaway Camp, Terrifier 2), Dave Sheridan (Scary Movie franchise, The Devil's Rejects), Hannah Fierman (V/H/S, Shudder's Creepshow series) and Final Destination creator Jeffrey Reddick, who is also producing along with Dave and Felissa. Being on set with them has been very cool and really helped take things to the next level.
For me personally, working with Jeffrey has been the coolest part. We became quick friends years ago, and this movie was an excuse to be on set together. Not to mention Jeffrey was looking for a more comedic role to portray, so this gave him the opportunity he was looking for, and he absolutely nailed it.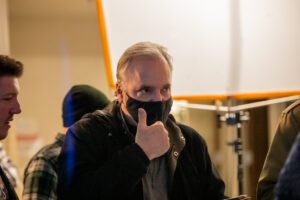 PopHorror: Where are you at in terms of production? Do you have a release date yet?
Eric Huskisson: Presently, we are within a couple of weekend shoots from filming being complete. Hopefully, we will be in post-production by late June. We'd like for the film to release around December of this year, but until we get a distribution contract, we won't know exactly when and how it will be released.
PopHorror: Where can people contact you?
Eric Huskisson: You can contact us through email at Bloodmoonpics@gmail.com. Our Instagram link is Bloodmoonpictures15. Here's the link to our Facebook page.